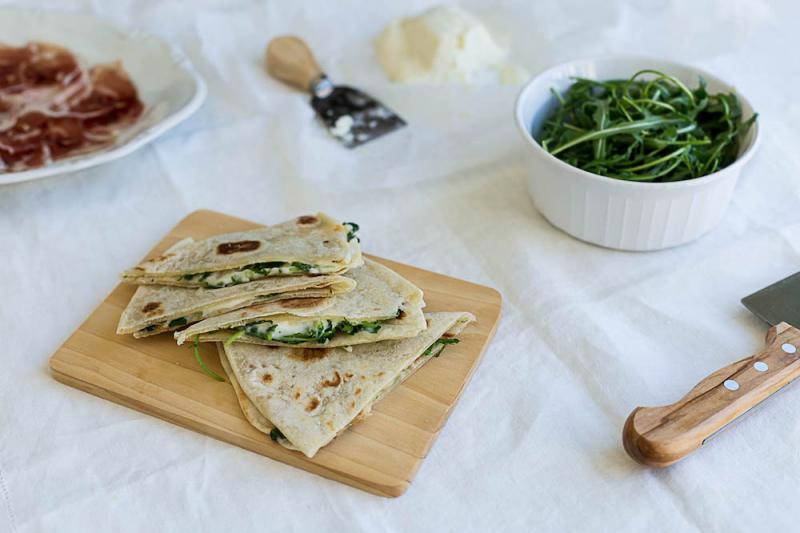 Cooking Time
10-12 minutes
But you, Maria, with your gentle hands
tame the dough and then stretch and flatten it;
and behold it is smooth as paper and
as big as the moon; and then you spread it
on my outstretched hands, and I lay it softly
on the hot surface, and you stand back.
Then I flip it, and with the poker
rouse up the fire beneath so that strident heat
makes it swell with blisters;
and the smell of bread fills the house.
With these words from the early 1900s, Italian poet Giovanni Pascoli brought to life the making of the piada, or as it now more commonly known, the piadina. Once upon a time, this unleavened flatbread, hailing from Pascoli's home region of Romagna, was made by household arzdore or matriarchs much like the one immortalised in the poem above. These days though, you're more likely find it being made and sold as a snack in one of the region's many piadinerie or roadside piadina kiosks.
So, how did this humble, once entirely homemade flatbread become one of Italy's most popular street foods? Basically, during the post-war period, Romagnol coastal towns such as Rimini became popular seaside resorts. And beachgoers' demands for a cheap and satisfying meal were met by filling hot-off-the-pan piadine with the wonderfully creamy local Squacquerone cheese and rocket; prosciutto and fontina ; or summery tomato and mozzarella.
In past, less abundant times, an arzdora would make her piadine with whatever ingredients were on hand, such as acorn, chestnut and polenta flour. Today, piadine are almost exclusively made with wheat flour (an all-purpose one works fine for the recipe below). You'll also find that many health conscious people now like to replace the more traditional pork-based lard with olive oil. By all means, do the same if you don't care for the lard I've indicated below, but I personally found the texture of my flatbreads to be vastly superior when using the strutto that was once so common in Italian households before the country's post war economic boom. As for the bicarbonate of soda that is now often added in many recipes, it's really not necessary, let alone true to the piadina's origins as an unleavened bread. Flour, water, lard and salt are really all you need.
Another note on preparing the recipe below. The test of a good Rimini-style piadina is its pliability. If you can fold your cooked bread without it tearing, bravo! The trick to obtaining this consistency is kneading your dough into 5 smooth and elastic balls, leaving these to rest and taking care not to overcook them in your flat, non-stick or cast iron skillet.  A couple of minutes on each side or until bubbles begin to form at their surface is enough.  You can use a simple dinner fork from your kitchen draw to deflate these!
As for serving, piadine are at their best when filled and eaten immediately. If you do wish to make these ahead of time though, leave them to cool to room temperature and store in an airtight container or covered in plastic wrap in the refrigerator for at most two days. 
Ingredients (makes 5 piadine)
Ingredients
lard
100g melted lard, at room temperature
Instructions
Pour water in a large mixing bowl. Add melted lard and salt. Start adding flour in slow, steady stream using a fork or wooden spoon to bring the ingredients together. Transfer to a clean, lightly dusted work surface. Knead the dough until soft, smooth and elastic. Divide dough into 5 pieces weighing about 165 – 170 g each. Roll each piece into a smooth, round ball. Leave the dough balls to rest for an hour, covered with a clean tea-towel.
Using the palm of your hand, flatten each ball gently before rolling them out into discs with a thickness of 1-2mm and a diameter of 25cm.
Heat a flat, non-stick or cast-iron skillet. Place one piadina at a time on the skillet. Cook until bubbles begin to form at the surface. With a fork, poke the bubbles to ensure the air is let out and then flip over, repeating the fork procedure when bubbles begin to form again.
Transfer cooked piadine to a plate. Place your filling of choice inside, fold in half and heat again on your skillet until warm. Best eaten right away!