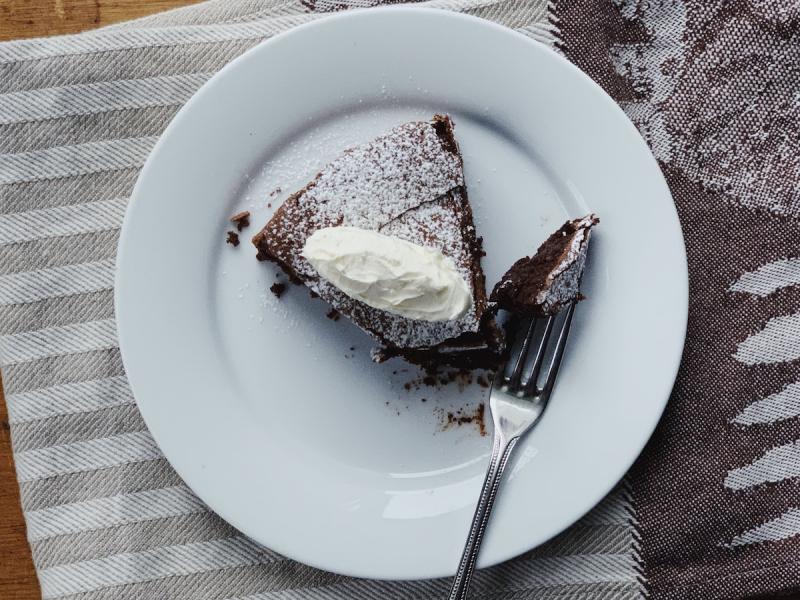 Cooking Time
30 to 35 minutes
Lore accompanies many Italian recipes. The stories aren't always credible, but they are often entertaining. Take the supposed history surrounding this rich chocolate torte: It is said to have originated on the island of Capri in 1920, and was, apparently, a complete accident.
A chef named Carmine di Fiore was (allegedly) cooking for three associates of infamous gangster Al Capone. While mixing the ingredients for an almond cake, Chef Carmine neglected to add flour to the batter of ground almonds, butter, bittersweet chocolate, sugar, and eggs. It wasn't until the torte was already in the oven that he realized his mistake. As luck would have it, the dessert turned out beautifully—crispy on the outside from whipped egg whites, and rich and dense on the inside from the chocolate and ground almonds. It was (apparently) a bit hit with the trio of crooks.
The popularity of Torta Caprese seems to have multiplied in the last several decades. There is a recipe for it in Arthur Schwarts's book "Naples At Table," (1998) in which the author notes that "despite its identification with Capri, this cake can be seen in almost every bakery window in Campania…" However, there's no mention of it in any of my older Italian cookbooks, including my 60+ -year-old copy of Ada Boni's "Il Talismano della Felicita" and Fernanda Gossetti's exhaustive "I Dolci Della Cucina Regionale Italiana." Gossetti does have a recipe for "Torta Nera," a Venetian cake that sounds almost exactly the same, except with cocoa taking the place of the bittersweet chocolate. (More recent iterations of Torta Nera call for walnuts rather than almonds.)
In any case, Torta Caprese is much beloved and here to stay. There are many (many) variations, some with more nuts than chocolate, some more dense than airy, some with liqueur, and some that add a pinch of baking powder to assist leavening. My version here is a true torte, in that it contains no artificial leavening; it relies on almond flour, chocolate and butter for richness, and the air beaten separately into the egg yolks and whites for lightness. Best of all, you don't have to be a crook to enjoy it. 
Makes one 9-inch torte, serving 8 to 10
 
Ingredients Sections
1 stick (115 g / 4 oz) unsalted butter, cut into pieces; plus more for coating the pan
Flour for coating the pan
8 ounces (227 g) bittersweet chocolate, chopped
1 cup (200 g) granulated sugar
4 eggs, separated
2 tablespoons brewed coffee or liqueur such as Kahlua (coffee liqueur), Amaretto, brandy, or grappa (optional
1/2 teaspoon pure vanilla extract
1/4 teaspoon fine salt
1 cup (100 g) almond flour (see NOTE)
Confectioners' sugar, for dusting
Whipped cream, for serving
Instructions
1. Butter and flour a 9-inch (24-cm) springform pan. Heat the oven to 350° F (180° C).
2. Bring a small pot of water to a simmer. Place the cut-up butter and bittersweet chocolate in a bowl and set it over the pot, making sure the bottom of the bowl does not touch the water. Let the mixture melt, stirring to combine. Remove from the heat as soon as it is melted and let it cool briefly.
3. In a large bowl, whisk the egg yolks with 3/4 cup (150 g) sugar until light and creamy (I use a hand-held mixer). Beat in the coffee or liqueur, vanilla extract, and salt. Gradually whisk in the cooled chocolate mixture; then fold in the almond flour.
4. Using a stand mixer or hand-held mixer with clean beaters, beat the egg whites until foamy. With the mixer running, slowly pour in the remaining 1/4 cup (50 g) sugar and whip until the whites are glossy and hold firm peaks when the beaters are lifted. With a wide spatula, fold 1/3 of the whites into the chocolate mixture; then gently fold in the rest, using a scooping and folding motion.
5. Pour the batter into the prepared pan and slide it into the oven. Bake for 30 to 35 minutes, or until just set and the top is firm, with some cracks (use a cake tester or toothpick to test for doneness; it should come out nearly clean, with just a few cake crumbs or batter on it). 
6. Let the torte cool on a rack for 5 minutes; it will deflate a bit and the cracks will become more prominent. Run a spatula around the interior edge and carefully remove the outer ring. Let the cake cool completely before serving. (Since this torte is delicate, I don't recommend inverting it to remove the bottom of the springform pan.)
7. To serve, place the cake on a decorative plate and dust with confectioners' sugar. Slice into wedges and top each serving with a dollop of freshly whipped cream.
NOTE: Almond flour is available in most supermarkets. For this recipe, you can use either almond flour, which is made from blanched (peeled) almonds, or almond meal, made from unpeeled almonds, though I prefer the cleaner taste of the blanched nuts. If you can't find almond flour or meal, pulse 100 g blanched almonds in a food processor until finely ground. Don't over-process or the oils from the nuts will be released and you'll end up with a clumpy mixture.