Torta dei Becchi: Spiked Chocolate Rice Pudding Pie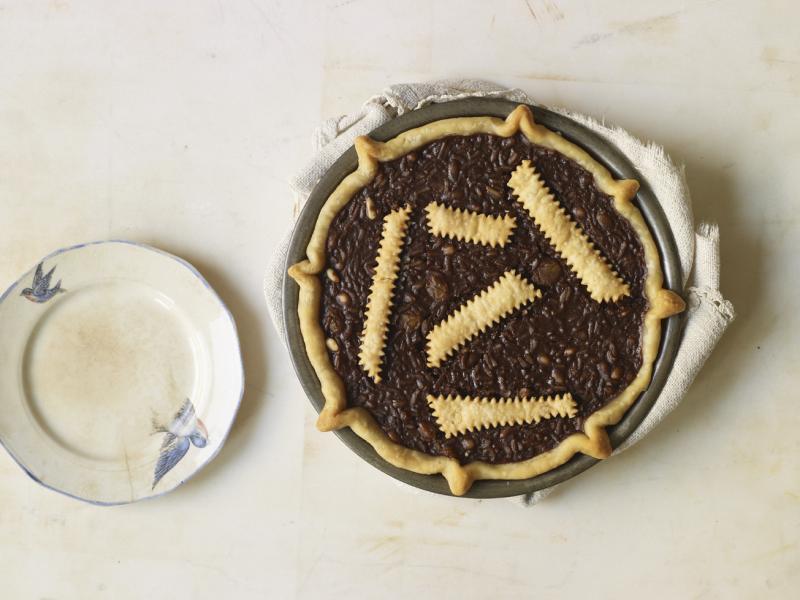 Rice pudding slow-cooked to creamy perfection, then baked with dark chocolate, pine nuts, and hints of orange---this specialty of the Lucca province of Tuscany not only tastes astonishing, but also has an adorable crust.
The dessert also has a cute double entendre name. Becchi  (plural of becco) literally means "bird beaks," and the name comes from the fact that the dough around the pie is pinched into thick beak-like points. Interestingly, becco is also slang for "cuckold" in Tuscany, where the addition of pine nuts is a naughty reference to a small member. In Lucca this pie is always served with a sly wink. 
Serves 8
 
Ingredients Sections
Pie crust: 1 deep-dish, 9 or 10-inch deep, either store-bought or homemade
Milk: 5 cups, plus more as needed
Long grain rice (not Arborio): 1 cup
Sugar: ¾ cup
Salt: To taste
Dark chocolate: 3 ½ ounces, chopped
Raisins: 1/3 cup
Pine nuts: ½ cup, toasted in dry pan
Candied orange peel or orange zest: ¼ cup minced candied peel or zest of 1 orange
Unsweetened cocoa powder: 2 tablespoons
Orange liqueur such as Grand Marnier: ¼ cup
Egg yolks: 3, beaten
Instructions
Prepare the piecrust, if homemade.
Combine the milk, rice, sugar, and salt to taste in a medium saucepan and bring to a low boil. Reduce heat to low and let simmer, covered, stirring occasionally, until the rice is very soft, about 30 minutes. Add more milk, if needed, as the rice should be loose. Stir the chocolate into the cooked hot rice, until dissolved. Mix in the raisins, pine nuts, candied peel or zest, cocoa powder and liqueur. Allow the mixture to cool. 
Preheat the oven to 350 degrees. Grease a 9-inch pie pan. Roll out the dough, and cut off 3 or 4 one-inch strips of dough for toping the pie. Make the dough large enough so that you can pinch "beak" points all around the torta. Fold edges of dough and shape into thick bird beaks by pinching the dough between thumb and forefinger. Space the beaks around the torta so that each slice features one centered beak.
Beat the egg yolks and stir into the cooled rice. If the mixture is too thick add a little more milk. Spoon the mixture into the piecrust and top with the reserved strips of dough. 
Bake for about 50 minutes, until the crust is golden. Serve at room temperature.