Torta di Amaretti | Amaretti Cake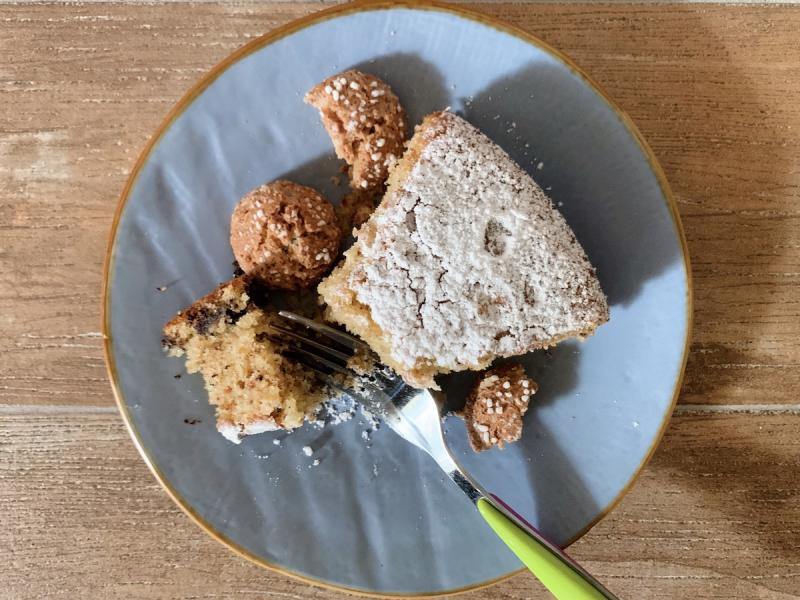 Crunchy amaretti cookies are beloved by Italians and pretty much the rest of the world. Composed of just four ingredients—sugar, bitter almond, egg whites, and baking soda—the cookies are known for their crunchy, crumbly texture and assertive almond flavor.
That flavor comes not from almonds themselves, but rather from the bitter "almond" or kernel found inside apricot pits. The kernel has an intense perfume and a bitter finish (it's the same ingredient used to make pure almond extract). Although bitter almonds can be toxic when consumed in large quantities, you only need a small amount to bring out their rich aroma and almond flavor, and they remain an essential ingredient in Italian baking, as well as liqueurs.
While delicious on their own, or with an afternoon espresso, amaretti cookies can also double as an ingredient in both savory and sweet preparations. Crushed amaretti are a key ingredient in Mantovan-style pumpkin ravioli, as well in stuffed peaches alla Piemontese.
Here, the crushed cookies are folded into cake batter, along with chopped bittersweet chocolate. The baked cake has a surprisingly delicate almond flavor. Enjoy a slice with coffee or tea, or a glass of amaretto liqueur.
Ingredients Sections
5 ounces (150 g / 1 stick plus 2 tablespoons) unsalted butter, softened; plus more for the cake pan
1 2/3 cups (200 g) unbleached all-purpose flour, plus more for the cake pan
2 teaspoons baking powder
1/4 teaspoon fine salt
3/4 cup (150 g) sugar
3 large eggs
Zest of 1 small orange
4 ounces (113 g) crunchy amaretti cookies
2 tablespoons amaretto liqueur (or 1/4 teaspoon pure almond extract)
3/4 cup (170 ml) whole milk
3 ounces (85 g) bittersweet chocolate, chopped into small pieces
Confectioners' sugar for dusting
Instructions
1. Heat the oven to 350° F (180° C). Butter a 9-inch (24-cm) round springform cake pan. Fit a 9-inch (24-cm) round of parchment in the bottom and butter that. Dust the interior of the pan with flour, shaking out the excess. Set aside.
2. Whisk together the flour, baking powder, and salt and set aside.
3. Combine the butter and sugar in the bowl of a stand mixer and beat until fluffy (you can also use a hand mixer). Add the eggs, one at a time, beating thoroughly after each addition. Add the orange zest and crushed amaretti cookies and beat on low just until incorporated. Beat in the amaretto liqueur or almond extract.
4. With the mixer on low speed, beat in half the flour mixture. Pour in the milk and beat until incorporated; then beat in the remaining flour mixture. Use a spatula to fold in the chocolate pieces.
5. Scrape the batter into the prepared pan and smooth out the top. Bake for 30 to 35 minutes, until a cake tester or toothpick inserted into the center of the cake comes out nearly clean, with just a few crumbs clinging to it. Remove from the oven and let cool on a rack for 10 minutes. Remove the ring from the pan and let cool another 30 minutes. Invert the cake onto a plate and peel off the parchment. Re-invert the cake onto the rack and let cool completely. To serve, dust the cake liberally with confectioners' sugar.