Torta di Mele: Rustic Tuscan Apple Cake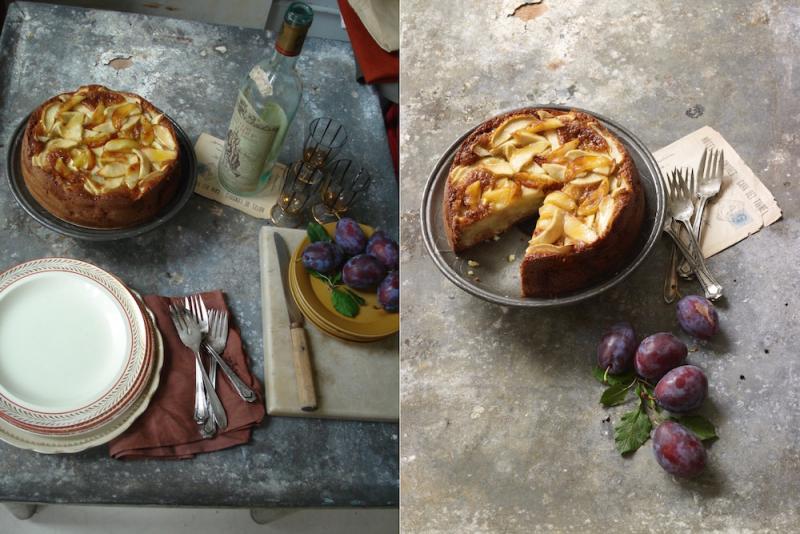 In Italy practically everyone knows Disney's "Grandma Duck," Donald Duck's grandmother. In Italy Grandma Duck aka Nonna Papera became the iconic American grandmother.  She gets into all sorts of adventures and yet bakes up beautiful pies. Her pies have taken on an almost mythical status in Italy and are considered quintessentially American.
She was so popular in Italy that a children's cookbook featuring her was published in 1970, called Manuale di Nonna Papera. It became a phenomenal success in Italy! Though it has authentic Disney illustrations, it was never published in American, and, in fact, its recipes were really quite Italian. Manuale di Nonna Paperais the source of many fond foodie memories for millions of Italians. To compliment a particularly lovely cake Italians will often say, "Pareva la torta di Nonna Papera!",  it looks like a Grandma Duck pie!.
It's interesting to note that the Italians don't crimp the edges of a piecrust as we do, so the illustrations of the pies with their undulating borders seemed magical to Italian children. There were also intrigued by the tradition of leaving the pies on the windowsill to cool, something else unfamiliar in Italy.
This cake is a classic in italy, the equivalent of America's apple pie. At first glance it may seem like a huge ratio of apple to dough and you're going to be tempted to cut down on the apples. Don't! It looks like a lot of apples, but they magically meld into the batter. You'll love the result. The top half of the cake is chock full of tender apples that float over sweet moist cake.
Serves 8 to 10
Ingredients
unsalted butter
2 tablespoons, plus more for the pan
all purpose flour
1 1/3 cups (200 grams), plus more for the pan
sugar
2/3 cup (150 grams), plus 1 tablespoon
baking powder
2 teaspoons
apples
4 -5 large apples, about 2 pounds total (1 kilo)
Instructions
Preheat the oven to 350 degrees. Butter and flour an 8-inch cake pan. Beat 2/3 cup of sugar and the eggs in a large bowl, using a whisk or electric handheld beater, until creamy and light yellow. Beat in the flour, milk, baking powder, baking soda and zest.  Pour the mixture into the prepared pan.
Peel and core each of the apples. Dice one of the apples and stir the dices into the batter. Cut the remaining apples into thin slices. Spread the slices over the diced apples in the pan in a neat pattern. Press slightly into the batter. Scatter thin pats of butter over the apples and sprinkle with the remaining tablespoon of sugar. Bake for about 75 minutes, until dark golden and cooked through.
From: Dolci: Italy's Sweets
By Francine Segan (Stewart, Tabori & Chang, 2011)