Tortelli With a Tail: Tortelli Piacentini con La Coda
Cooking Time
1 hour cooking time, plus 6 hours passive
The filling for these charming bundles--ricotta, peas, asparagus, sun-dried tomatoes and hints of pine nuts--- is so good you'll be tempted to eat it right out of the bowl!  But be sure to save some to make these unique tortelli, which are fun to fold into their unique cocoon-like shape. They don't have to be perfect to be delicious. 
This specialty of Emilia-Romagna was invented in the mid-1300s in honor of famed poet Francesco Petrarch, who was visiting Lord Bernardo Anguissola at his castle in the hamlet of Vigolzone in the Piacenza province. They are served topped with a simple combo of melted butter, sage and grated cheese.
Serves 6
Ingredients
peas
½ pound, either fresh shelled or frozen
Asparagus
4 stalks, thinly sliced
sundried tomatoes
2 tablespoons thinly sliced
salt and black pepper
to taste
pine nuts
2 tablespoons, chopped
ricotta
Whole milk, ricotta 1 cup
fresh basil
5, finely sliced
Parmigiano Reggiano
to taste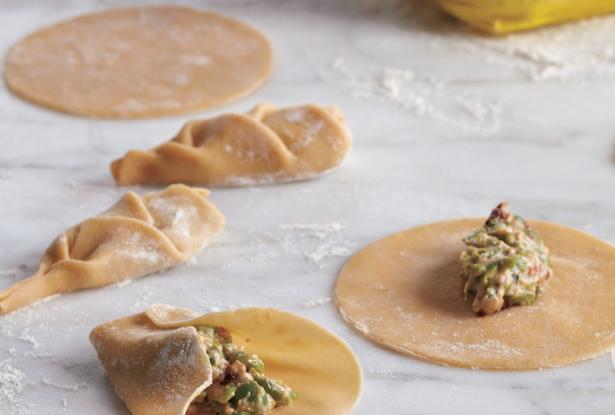 Preparation
For the filling:
In a medium pan, cook the shallot in 1 tablespoon of olive oil over medium heat until softened, about 1 minute. Stir in the peas, asparagus and sun-dried tomatoes, cover, and simmer until tender, about 7 minutes, adding a few drops of water, if needed. Lightly mash the vegetables with a potato masher or pulse a couple of times in a food processor, season to taste with salt and pepper, and cool to room temperature.  In a bowl combine the pine nuts, ricotta, 1/3 cup grated Parmesan, egg and basil with the pea mixture. Refrigerate until ready to use.
For the dough:
Put the flour onto a work surface. Make a well in the center and beat the eggs and 1/2 teaspoon of oil into the well with a fork. Slowly incorporate flour into the eggs until dough forms, adding a few tablespoons of water, if dry. Knead until smooth, about 5 minutes, then form into a ball. Let rest, covered in plastic, for 30 minutes. 
Roll out the dough about 1/8 inch thick. Using a cookie or ravioli cutter, cut 3-1/2 to 4 inch circles. Put a heaping tablespoon of the filling in the center of the circle and fold down about 1/4 inch of the top edge of the dough. Then fold a little of the top left corner down over the center, then a little of the right corner over that. Continue folding in alternate sides, moving down the center until you reach the end of the dough circle. Pinch closed the "tail." Repeat with the remaining dough and filling.
To finish:
Cook the tortelli in two wide pans of salted boiling water until tender, about 4 minutes.  Meanwhile melt the butter and sage in a small saucepan until the butter browns a bit, about 2 minutes. Remove the tortelli using a slotted spoon and served drizzled with the sage butter and topped with grated cheese.