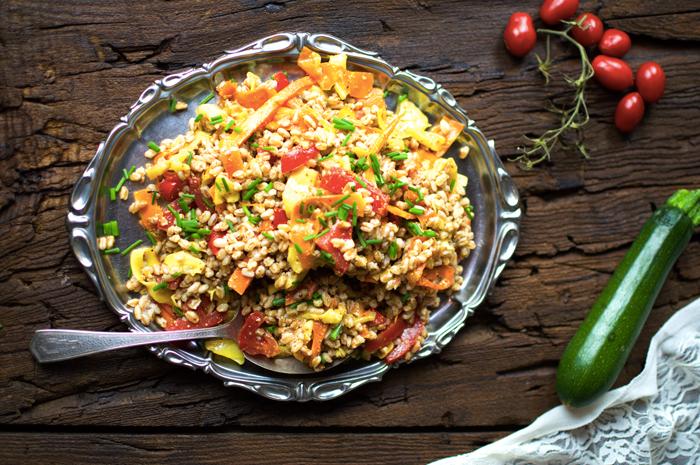 Farro, also called emmer, is an antique wheat grain that can typically be found in Mediterranean, Northern African and Middle Eastern diets. During the ancient Roman Empire, farro was eaten as a grain, ground into flour and even used as bargaining chips.
Farro is commonly sold as farro decorticato or hulled farro which is the whole grain form and where only the outermost hull is removed.  Then there is farro perlato or pearled farro where the outer husk and bran layers have been removed; doing so slightly decreasing the cooking time but stripes the farro of nutritious fiber and minerals.  
Serves 4-6
Ingredients
whole grain farro
1⅔ cup (280g)
zucchini (courgettes)
2, ends discarded and the remaining shaved with a vegetable peeler
carrots
2, ends and the first shavings discarded, then the rest shaved with a vegetable peeler
grape tomatoes
10, halved
extra virgin olive oil
1/2 cup
wine vinegar
4 teaspoons (red wine vinegar)
mustard
2 teaspoons Dijon
shallot
1 small, thinly sliced
Instructions
For the farro:
In a medium pot, add the water, farro and salt. Bring to a boil then lower the heat to medium low. Cook the farro according to the package directions, about 25-40 minutes. Drain then pour the farro into a large bowl.
For the vinaigrette:
In a small bowl, mix together all of the ingredients for the vinaigrette. Add the vinaigrette to the farro along with the tomatoes, zucchini and carrots; stir to combine.
Serve warm or cold. This is a great make-ahead recipe for large crowds or week day dinners.
*Some brands of hulled farro may require soaking, while others may not. Be sure to read the cooking instructions as the length of preparation may vary.