Whole Grain Tagliatelle with Asparagus, Peas and Aged Balsamic Vinegar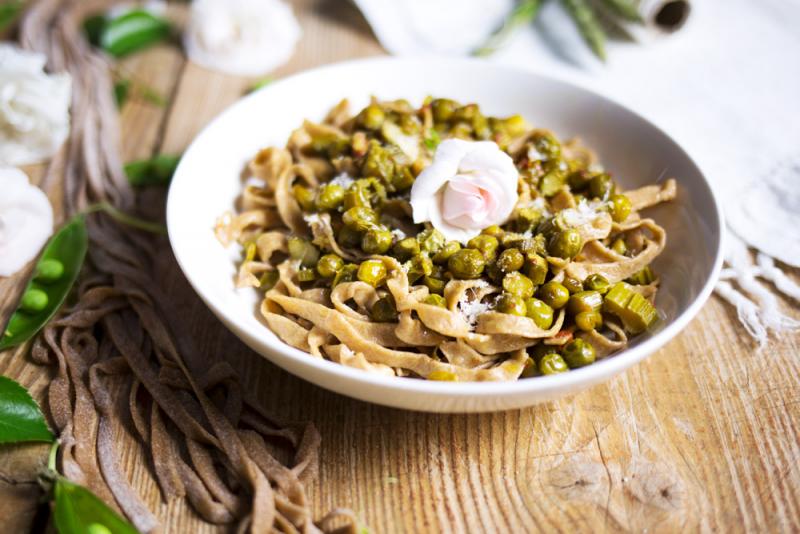 A classic spring pasta dish in Emilia Romagna, a northern region of Italy, is tagliatelle con asparagi e piselli or "tagliatelle with asparagus and peas." What are tagliatelle? They are long, flat ribbons made from egg pasta dough that range in size from 4-10mm. Commonly paired with ragu alla bolognese, a meat-based sauce from Bologna, other local favorites include tagliatelle ai porcini (porcini mushrooms) and tagliatelle contartufo (truffle). Although tagliatelle pasta made with 00 flour is traditional, whole grain tagliatelle pasta also really shines. 
Often times asparagus and peas are accompanied by a splash of lemon juice or a grating of organic lemon zest. To add a delicious dash of acidity to make this dish pop without overwhelming the flavors, try instead a small swirl of 12 year old aged balsamic vinegar. If any of this precious vinegar remains on your plate, fai la scarpetta -- a classic way to sop up all remnants with a piece of bread (a classy alternative to licking your plate!)
Serves: 2
Ingredients
fresh tagliatelle pasta
7 ounces whole grain tagliatelle pasta (or fettuccine or pappardelle)
extra virgin olive oil
1 tablespoon
shallot
1, finely chopped
Asparagus
½ pound asparagus spears, woody ends snapped off and chopped in bite sized pieces
white wine
¼ cup still white wine
Parmigiano Reggiano
3/4 cup grated
aged balsamic vinegar
Aged balsamic vinegar (12 years), to taste
Instructions
Bring a medium sized pot of water to a boil over high heat, add the salt and cook the pasta according to the package directions. Reserve 1/4 cup cooking water then drain.
While the pasta cooks, make the sauce. In a medium-sized skillet, heat the extra virgin olive oil over medium heat then cook the shallot until golden 2-3 minutes. Add the asparagus, peas, white wine and season with salt and pepper. Simmer until the asparagus is fork tender; 3-5 minutes. 
Add the cooked pasta and cooking water to the skillet; toss to coat and cook for 1 minute. Remove from heat and stir in the grated Parmigiano Reggiano. Divide among two bowls, top with another small grating of Parmigiano Reggiano (you can never have enough) and a drizzle of aged balsamic vinegar. Buon appetito!