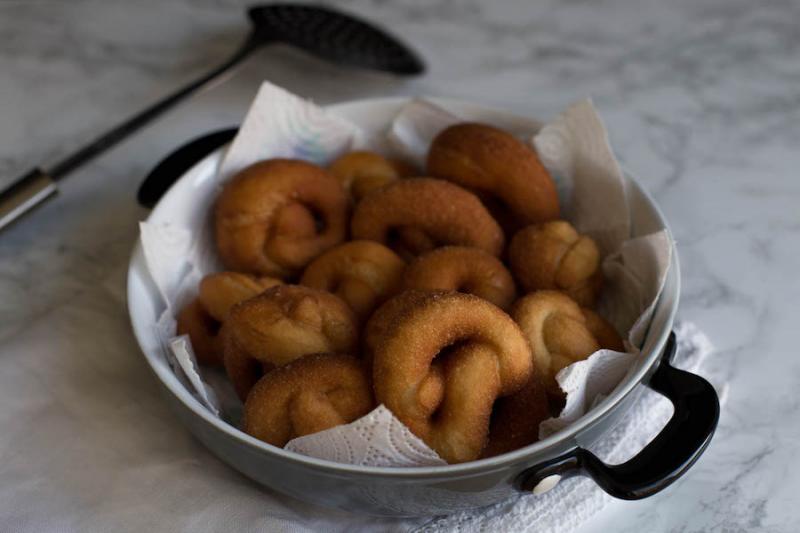 Cooking Time
15-20 minutes (plus 2-3 hours for leavening and proving dough)
In the southern Italian region of Calabria, there's a saying which goes: A Mmaculata a prima padejata ('the first fry-up on Immaculate Conception Day'). It's an expression which vividly illustrates the locals' anticipation to make zeppole (or zippule as they are known in the Calabrian dialect), dough fritters typical of the region at Christmas time.
Just to clarify, zeppola is a term used all over southern Italy to describe many different types of dough fritters. Le zeppole di San Giuseppe, the deep-fried nest-shaped choux filled with pastry cream made on Saint Joseph's Day (March 19), are probably the most famous example.  Calabrian zeppole, on the other hand, are yeasted and more often than not, savoury.
As with many Italian regional specialities, recipes for these addictive fritters vary enormously. The version I knew growing up in Australia was my Calabrian nonna's. She made her zeppole with a sticky dough, which often included the addition of mashed potato. After leaving the dough to rise, she would oil her hands, remove a fistful of dough from the bowl and insert an anchovy into it. I remember watching her, transfixed with admiration, as she shaped the viscid dough into a ring which she would then immerse into a pot of hot, bubbling oil.  Finally, when she was done frying, she would leave a bowl out so we could help ourselves to a substantial pre-dinner appetiser consisting of crisp, donut-shaped zeppole. (Well, nonna actually made two bowls. There was always one set of anchovy-free fritters to placate my then-dislike of those hairy little fishies).
Since moving to Italy several years ago, I've come across other varieties of zeppole hailing from my nonna's home region. Sometimes, similarly sticky doughs are moulded into balls instead. Ricotta, olives and sardines are some of the alternate fillings to crowd-dividing alici or anchovies. Sweettooths, don't despair. There are versions to suit your tastes too. You'll find zeppole with sultanas, making for a wonderful contrast with the savoury dough enveloping the dried, seedless grapes. And for true golosi or gourmands, it's common to dust zeppole in icing sugar after frying them as well.
My favourite zeppola of late, however, is a less sticky, bread-dough based one a member of my extended family kindly shared with me from the town of Maierato. In this hilltop paese, located slightly inland from the region's Tyrennian coast near Tropea, zeppole take on the form of a pretzel. This shape is believed to symbolise arms crossing the chest and has long been considered an auspicious one in the region. After intertwining and twisting the ends of rolled-out ropes of dough into this propitious shape, the locals then leave their zeppole to prove with their rising bread loaves. An easy and practical way for home-breadmakers to prepare these delicious fritters come Christmas time!
Ingredients for zeppole di Maierato (makes about 25 zeppole)
Ingredients
dry yeast
10g active dried yeast
malt
1 teaspoon (optional)
bread flour
500g strong bread flour, plus extra for dusting
Instructions
Pour tepid water in a large mixing bowl and add active dried yeast and malt. Stir and leave to sit until the yeast dissolves and foam rises to the surface (about 10 minutes). Add flour and mix until the ingredients come together as a dough. Cover and leave to sit for 10 minutes. Transfer dough to clean and lightly-dusted work surface. Add salt and knead until dough is smooth and elastic (about 10 minutes). Roll into a ball, score the dough with a cross on top and place in a large, clean bowl. Cover and leave to rise until doubled in size (about 1 – 2 hours).
Remove a fistful of dough from the bowl and on a clean, lightly-dusted work surface, roll it out as long as you can. Take the ends of the 'rope' you have formed and place them together so you have a circle. Twist the ends of the rope together and then bring the twisted ends toward the bottom curve. Repeat procedure until you have used all the dough. Place zeppole on a lightly dusted surface, cover, and leave to prove for an hour.
Heat vegetable oil in a wide and deep pan to 170 degrees.  Deep-fry the zeppole, no more than 3 at a time. Fry them on each side for 3-4 minutes or until they are crisp and have turned a golden colour. Transfer zeppole onto a plate covered with absorbent paper towels. Serve warm as a snack or appetiser. These zeppole also work well as a bread substitute and can be used to fare la scarpetta or 'wipe your plate clean' at mealtime.
Buon appetito e buon natale!