Zuppa Imperiale: Imperial Soup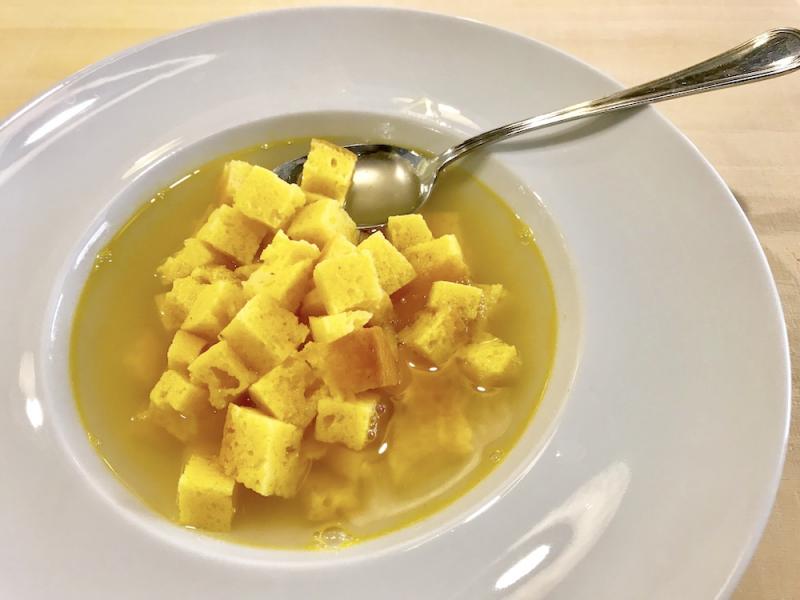 A classic soup of Bologna, which features soft tasty dough cubes, is traditionally served in capon broth during Christmas, but is a wonderful comfort food all winter long. Zuppa Imperiale was thought to have evolved from the Austrian krinofel soup that was introduced into Emilia-Romagna with Austrian-born Maria Luigia, who was the wife of Napoleon I and became the Duchess of Parma, hence the "imperial" sobriquet. Back then it was thought to be especially health-giving so was given to pregnant women and the sick.  In 2006 an official recipe for zuppa imperiale was registered with Bologna's Chamber of Commerce by the Accademia Italiana della Cucina"Italian Academy of Cuisine.  
I learned to make this classic dish at Bottega Cappello Rosso a pasta and baked goods shop that is connected to Europe's oldest continuously operating hotels: Al Cappello Rosso, dating to at least 1379.  The Cappello Rosso restaurant and bake shop are separate from the hotel in memory of Middle Ages legislation. Interestingly, inns were held to high standards back then, and the Statute of Bologna, signed in 1259, prohibited inn keepers from selling bread or other food to city residents even in time of famine. The law was enacted to ensure that Bologna would not be shamed by being unable to provide proper hospitality to foreigners. 
To make the cubes, the dough ingredients--flour, eggs, butter, nutmeg and cheese--are baked, and then is cut into pieces. The key ingredient in these remarkable little cubes is Parmigiano-Reggiano, a cheese made exactly as it was nine centuries ago and is even mentioned in Boccaccio's 14thc poem, The Decameron: "And there was a mountain of grated Parmigiano cheese, on which people were making nothing but maccheroni and raviolis…."Using only three ingredients-- milk, salt and rennet—Parmigiano-Reggiano can only be produced in the Emilia-Romagna provinces of Parma, Reggio Emilia, Modena and parts of Mantua and Bologna and is aged a minimum of 12 months before the wheel is tested and if it passes, receives the DOP fire-brand.
Serves 4 - 6
Ingredients
butter
5 tablespoons, melted, plus more for the pan
Parmigiano-Reggiano cheese
1 cup grated, plus more for serving
broth
8-10 cups of capon or your favorite broth
Instructions
Preheat the oven to 350 degrees F. Butter a 12x8 inch baking pan. 
Combine the eggs and butter in a bowl. Stir in the Parmigiano-Reggiano cheese and semolina flour and blend until well combined. Season to taste with nutmeg and salt. 
Spread the mixture in the prepared pan and bake for 20-25 minutes, until set. Let cool and then cut into small cubes.
When ready to serve, bring the broth to a boil in a pot and serve with the cubes and a sprinkle of Parmigiano Reggiano cheese.