Zuppa Tartara: Summer Tiramisu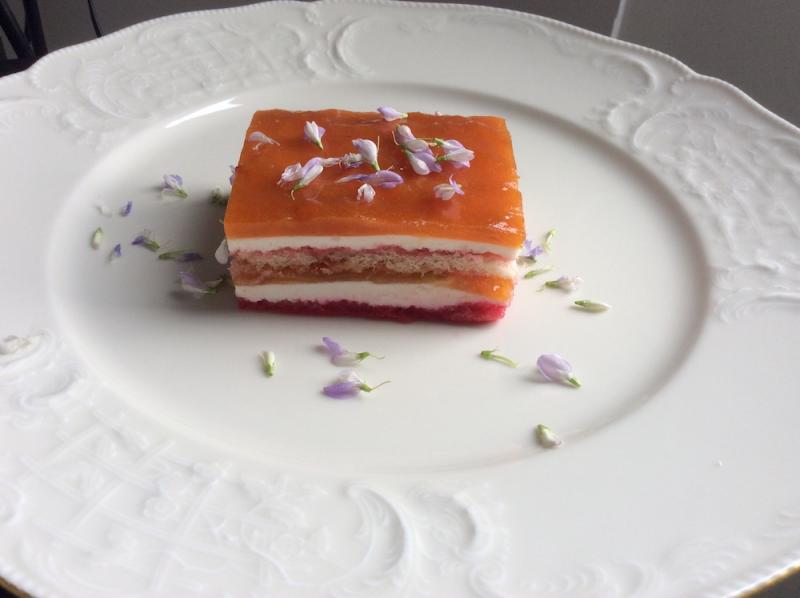 A perfect summer dessert, beautiful and takes just seconds to assemble using supermarket ingredients. Savoiardi---ladyfingers--layered with jam and sweetened ricotta. The whole thing firms up so nicely, you can slice it like pound cake, creating an effortless, virtually instant, no-bake peach cake.
This dessert is so light and easy-to-make that it might be surprising to learn that the recipe comes from an 1890's cookbook, Science in the Kitchen and The Art of Eating Well, by Pellegrino Artusi, considered to be one of the most important cookbooks on Italian cuisine.  The original name of the dish, zuppa tartara, translates to "raw soup" because the ingredients aren't cooked. 
Pellegrino Artusi was born in 1820 in the Emilia-Romagna town of Forlimpopoli. In his honor the town founded a gastronomic center, Casa Artusi, which has an important culinary library, unique cooking school, museum, wine cellar and restaurant. Every June there the town hosts a nine-day festival http://www.festartusiana.it/ celebrating this important Italian gastronomist.
Serves 4
Ingredients
sweet liqueurs or rum
2 tablespoons
savoiardi lady fingers
12
peach preserves
1 cup, plus more as needed
Preparation
Combine the ricotta, sugar, and cinnamon in a bowl, and beat with a fork until smooth. Reserve.
In a shallow bowl combine the raspberry jam with 1/4 cup warm water and the liqueur or rum. Dip the savoiardi, a few at a time, into the mixture until they are nicely moistened. Place 4 onto a serving plate, side by side, and spoon 1/2 of the ricotta mixture over them. Top the ricotta with small dollops of the peach preserves. Repeat. Finish with final layer of dipped savoirdi and a final layer of peach preserves. 
Cover with plastic wrap, and refrigerate for at least hour, or up to 6 hours. Serve cold.
Photo courtesy of Casa Artusi www.casartusi.it