Broccoli Affogati: Drowned Broccoli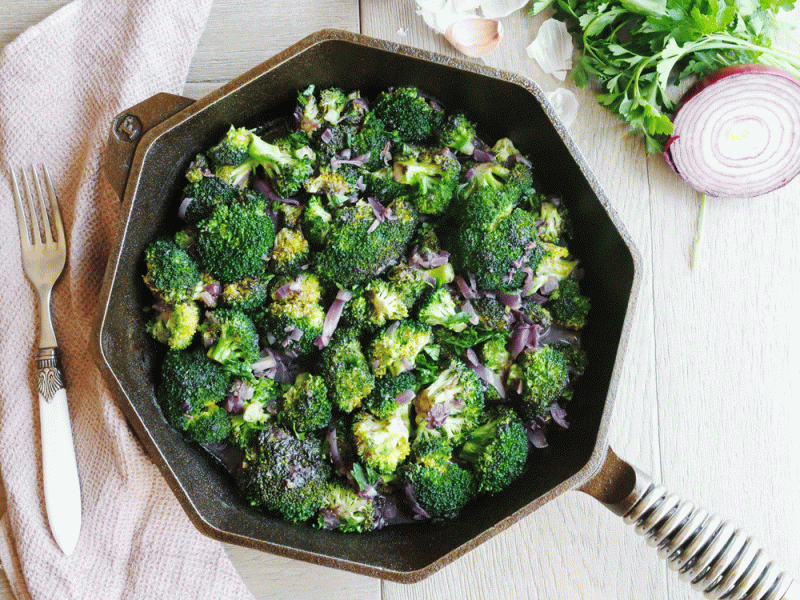 Who says eating broccoli has to be bland and boring?  When you have this traditional Sicilian side dish in your cooking arsenal, it's hard not to go back for seconds or even thirds. Broccoli affogati in Italian o broccoli fuati in Sicilian dialect, means "drowned broccoli". 
"Drowned with what?" you make ask.  
Wine, of course. 
Now this dish just got interesting.
Like many Italian dishes, it starts by infusing extra virgin olive oil with a clove of garlic then adding onions and slowly simmering them until they become shiny and translucent. At this point you'll add a secret ingredient that some may turn up there nose to. I'm talking about the mighty anchovy. Adding a few fillets will heighten the flavor without the dish seeming "fishy". Instead, anchovies add that "wow" factor and give depth of flavor. After you've stirred in some freshly grated Pecorino cheese you'll drown everything with red wine and cook over low heat until the broccoli is tender, your kitchen smells amazing and you're left wondering if you really want to share your veggies—probably a first!
Serves: 4-6
Ingredients
extra virgin olive oil
2 tbsp
Red onion
1/2, finely diced
anchovy fillets
5 fillets
broccoli
18 oz broccoli florets
grated pecorino cheese
2.5 oz
Fresh parsley
1 tablespoon, chopped Italian parsley
Instructions
Heat the extra virgin olive oil in a heavy pot or skillet. Add the garlic clove and cook over medium heat for 4 minutes. Remove the garlic and add the onions. Sauté until translucent; about 5-6 minutes. Add the anchovy fillets and cook for 2 minutes, stirring often to break them into pieces. Add the broccoli, Pecorino cheese, red wine and water. Simmer over low heat for 20-30 minutes until broccoli is soft and the liquid has mostly been absorbed. Garnish with parsley and serve warm. Buon appetito!