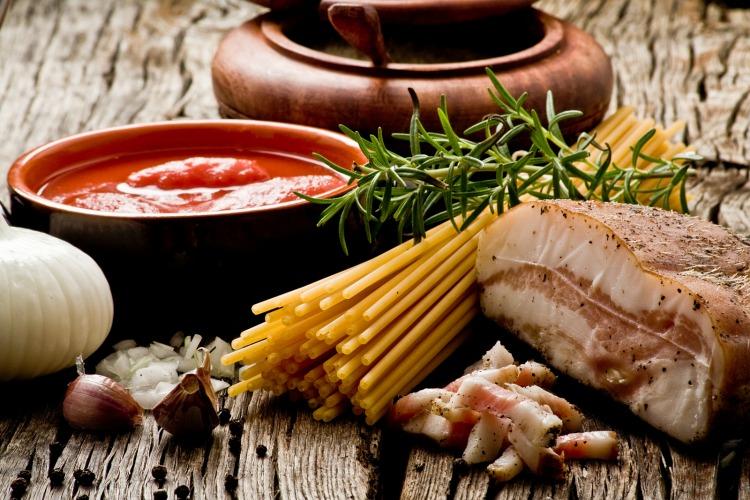 Spaghetti all'Amatriciana are a symbol of the Italian culinary tradition. The original recipe was created in Amatrice, a small town on the border between Abruzzo and Lazio. The original recipe calls strictly for spaghetti and not for bucatini, so much so that even signs at the entrance of the city state "Amatrice, Città degli Spaghetti" (Amatrice, The Spaghetti City). The recipe was a poor meal of shepherds prepared just with spaghetti, bacon and pecorino cheese, without tomato sauce and was called "Gricia", literally "the grey one". With the discovery of America and the arrival in Europe of tomatoes, this vegetable was added to the recipe which became known as "Amatriciana". Every year in Amatrice, in the province of Rieti, the last weekend of August they celebrate this traditional recipe organising the Festival of Spaghetti all'Amatriciana. Over time, this recipe became also part of the culinary tradition of the city of Rome where spaghetti were replaced by bucatini.
Ingredients
guanciale (Pork cheek lard)
100 gr
extra virgin olive oil
1 spoon
Instructions
Cut the guanciale (you can use bacon if you cannot find it) into cubes or strips, place it in a pan with the extra virgin olive oil and the crushed chili. As soon as the fat part of the guanciale start becoming transparent, pour the white wine and let evaporate. Drain the bacon, remove it from the pan and set aside.Then pour the tomato sauce into the same skillet, if you are using canned tomatoes instead cook them until they become mushy. Meanwhile, cook the bucatini al dente, drain and pour directly into the pan, add the bacon, and mix well. Grind some black pepper and seasoned with grated pecorino cheese before serving it.