Carbonara di Mare: Seaside Carbonara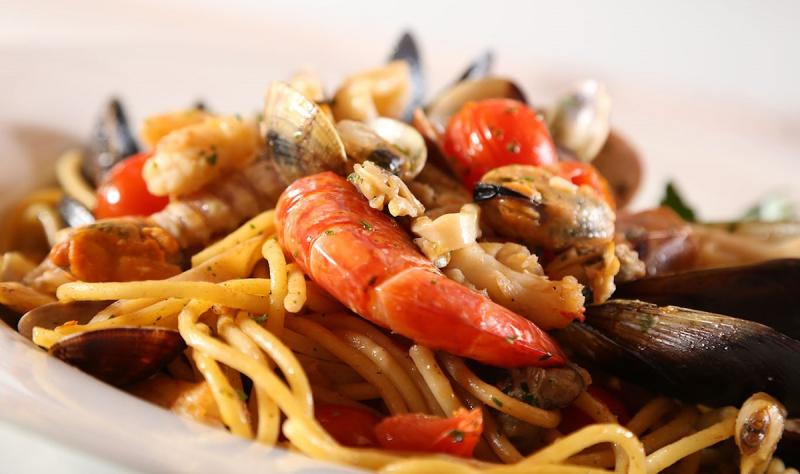 There is perhaps no Roman dish more famous than carbonara. With hot pasta strands tossed with raw egg to create its own creamy sauce punctuated by crisp bits of guanciale and a shower of grated cheese, what's not to love? 
It would be difficult to improve on that magical combination of simple ingredients, but this version just might sway your loyalties. This Italian beach food favorite uses fish in place of the guanciale in traditional Roman carbonara. The idea is that the silky egg sauce makes a great base for virtually anything from the sea — grilled salmon, canned tuna, smoked trout and even small raw clams. You can add just one type of seafood or a mix of your favorites.
Like the classic Roman carbonara, this version also calls for cheese. It's often said here in the United States that Italians don't add grated cheese to fish dishes. But it's not true! Two Michelin star chef Mauro Uliassi explains it this way: "It was only in the last 50 years that Italians living inland have started eating fish. In the past, it was a food only for those on the coasts. Inlanders were used to meat sauces with cheeses, so when fish arrived and they served it with pasta, they naturally followed the usual customs and topped it with cheese. There are many excellent Italian fish dishes made with cheese!"
Ingredients Sections
Fish or a mix of seafood: 3/4 pound
Salt and black pepper: to taste
Olive oil: 3 tablespoons, divided
Long pasta: 1 pound
Egg yolks: 4
Pecorino cheese: 1/4 cup, grated
Garlic cloves: 2 finely minced
Zest of 1 lemon
Parsley: 1/4 cup minced
Instructions
If using fish, like salmon or swordfish, season the fish with salt and pepper and broil it on both sides, until done. Flake into small pieces and set aside.  If using a mix of seafood, season with salt and pepper and saute in a pan with one tablespoon of the oil.
Cook the pasta in salted water until al dente. Meanwhile, in a large serving bowl, beat the yolks, pecorino cheese, garlic, and the lemon zest.  Drain the pasta and toss into the bowl, stirring vigorously to cook the yolks to a creamy consistency. Stir in the parsley, two tablespoons of olive oil, and the cooked fish or seafood.