Chicken Saltimbocca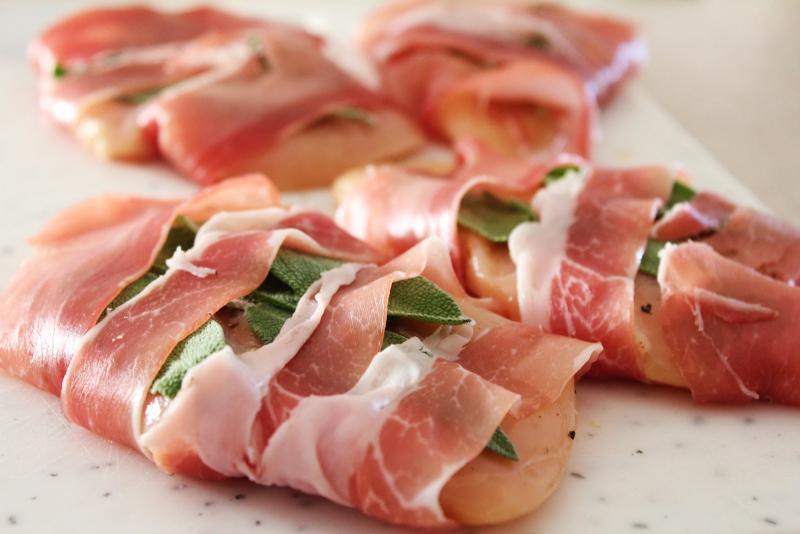 by Amy Gulick, The Bittersweet Gourmet. Ph. credit (www.deliciousasitlooks.com) 
I won't say this version exceeds saltimbocca alla romana—the classic made with veal and wholly deserving of its quirky name—but it sure gives it a run for its money. Depending on your area, sage plants should be producing their first lot of wonderfully fresh, fragrant leaves, so now is a perfect time to make this.
Ingredients
chicken breast
1-2 Fillets per person, tenderized
prosciutto crudo
1 thin slice per fillet
sage leaves
1 large leaf per fillet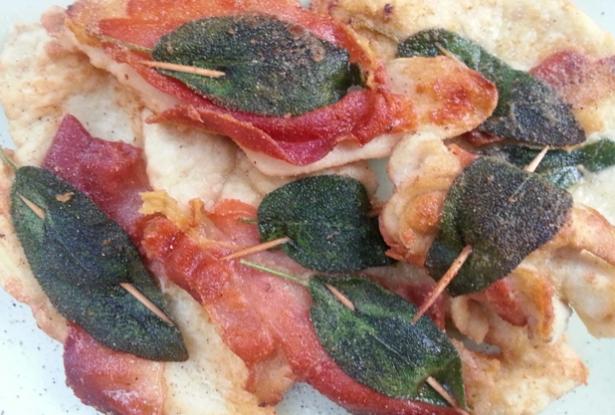 Instructions
Tenderize the chicken (moderately, just a once-over). Flour both sides of each piece and then place a slice of prosciutto on each fillet. Tip: use scissors to roughly shape the prosciutto to fit the chicken. Place a fresh sage leaf on top of the prosciutto and secure the layers with a tooth pick. Heat a good amount of olive oil in a large frying pan.
When very hot, place the chicken pieces in the pan with the sage leaf side facing up. Cook for about 2 to 3 minutes on this side. Then gently flip the pieces over—don't flip them more than one time. Add the white wine now and cook for about another 2 or 3 minutes or until the prosciutto and sage just start to crisp slightly but the chicken is not overdone. Salt and pepper lightly while the fillets are 'face down' in the pan. Transfer them to your serving plate and dust with a bit more fresh ground pepper. They probably don't need another dusting of salt, but test to be sure. Now gather the pan juices to drizzle over the fillets before serving.  
(Serving note: Some remove the toothpicks before serving as a courtesy, but note that doing so tends to spoil the presentation. I suggest serving them intact and let guests remove the toothpick themselves.)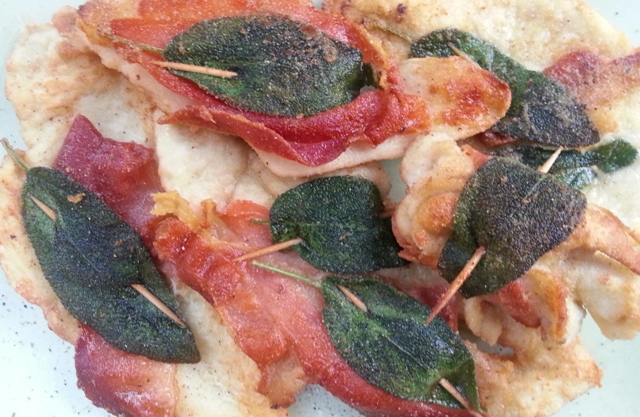 (Ph. Amy Gulick)