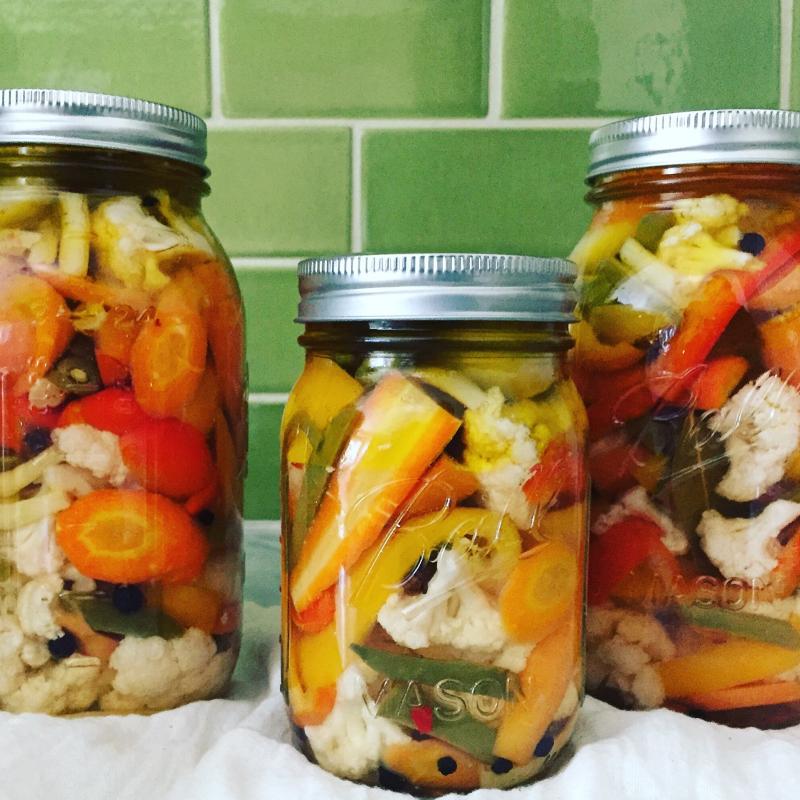 Cooking Time
30 minutes, including processing time
Makes about 3 quarts
Giardiniera, a crunchy mix of vinegar-brined vegetables, is probably Italy's most well-known pickle. Walk into any supermarket or alimentari in Italy and you're bound to find shelves filled with jars of these mixed pickles: some preserved with tomato, Piemontese-style, some with tuna, some with olives. But if the bottled supermarket version is your only reference, you are in for a happy surprise. Homemade giardiniera is so much more appealing, crisp and assertive but not abrasive.
This recipe is based on the giardiniera my mother, who was from Chieti, Abruzzo, used to make. I make it every October, when cauliflower and carrots are in season and there are still some good green beans and peppers at my local farmers' market. Round about February, when I've had it with winter, I open a jar, plunge my fork right in, and think of warmer days and the growing season ahead.
Ingredients
1 medium head cauliflower, about 1 1/2 pounds (680g), separated into florets
1 pound (500g) carrots, sliced on the bias if large, left whole if small
8 ounces (227g) pearl or cipollini onions, peeled
7 ounces (200g) green beans or mixed green and wax beans, cut into 2-inch lengths (about 2 cups)
4 large celery stalks, sliced on the bias into 2-inch lengths
1 red bell pepper, cored, trimmed, and sliced into thin strips
1 yellow bell pepper, cored, trimmed, and sliced into thin strips
2 cups (470ml) white wine vinegar
2 cups (470ml) distilled white vinegar
2 cups (470ml) water
2 tablespoons fine sea salt
2 tablespoons sugar
1 teaspoon whole black peppercorns
1 teaspoon crushed red chile pepper
1/2 teaspoon whole cloves (about 10)
1/2 teaspoon juniper berries (about 9)
2 bay leaves
6 tablespoons extra-virgin olive oil
Equipment
3 clean 1-quart (1-L) jars or 6 pint-size jars, and their lids
Basic water-bath canning equipment
Instructions
1. Have the vegetables prepped and ready.
2. Combine the vinegars, water, salt, sugar, peppercorns, crushed red pepper, cloves, juniper berries, and bay leaves in a large pot and bring to a boil. Add all the vegetables and stir. Cover the pot and let the vegetable steep, still on the heat, for 1 minute. Turn off the heat and, with a skimmer or large slotted spoon, transfer the vegetables to a bowl.
Add 2 tablespoons to each quart-size jar or 1 tablespoon to each pint-size jar. Pack the vegetables into the jars, adding a mix of each vegetable and some of the spices to each jar. Pour the brine over the vegetables, leaving 1/2-inch (13mm) headspace. Use a bubble remover to dislodge any air bubbles. Screw the lids on tightly and process for 10 minutes in a boiling water bath.
Store the sealed jars in a cool, dark place and let the giardiniera cure for at least 1 week before serving. It will keep for up to 1 year. Refrigerate any jars that fail to seal properly and enjoy those first.