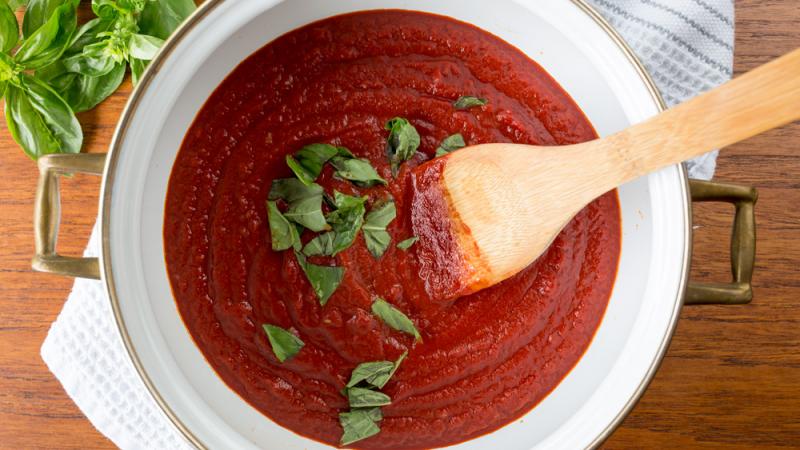 Making homemade passata di pomodoro (tomato puree) is a time honored tradition in Italy. In August, when tomatoes are at their peak ripeness, you'll find families and relatives gather together to prepare, cook and bottle enough passata di pomodoro to last the coming year. You can also find this tomato puree in supermarkets; it is sometimes sold as "strained tomatoes".  Passata di pomodoro is used in a variety of recipes: from classic tomato sauce for pasta and pizza to traditional dishes like spezzatino (stew) or Parmigiana di melanzane (type of eggplant casserole). 
Every Italian has his/her own way of making "their" tomato sauce. You'll find many variations like: whether or not to use asoffritto(sautéed garlic and onion or shallots), whether to leave the soffritto in the sauce or remove it; whether to use passata di pomodoro, peeled tomatoes or fresh tomatoes; whether to add peperoncino (red pepper flakes), olives or capers; and how long to cook it (10 minutes or up to an hour). The options are truly endless. Try the recipe below then experiment until you come up with "your" special recipe—just like an Italian. 
Makes: 2 ½ cups sauce
Ingredients
extra virgin olive oil
2 tablespoons
garlic
1 clove, finely diced
passata di pomodoro
1 28-ounce passata di pomodoro (also called tomato puree or strained tomatoes)
fresh basil
5 leaves, torn
Instructions
Heat the olive oil in a medium saucepan over medium-low heat. Add the onions and cook until translucent but not brown; about 5-7 minutes. Add the garlic and continue cooking for 1-2 minutes. Pour in the passata di pomodoro and salt to taste.  Bring to a boil then lower the heat to a simmer, cover leaving a little air to escape and cook for 30 minutes stirring often. Remove from heat and stir in the torn basil leaves.