Marmellata di Pomodoro (Tomato Jam)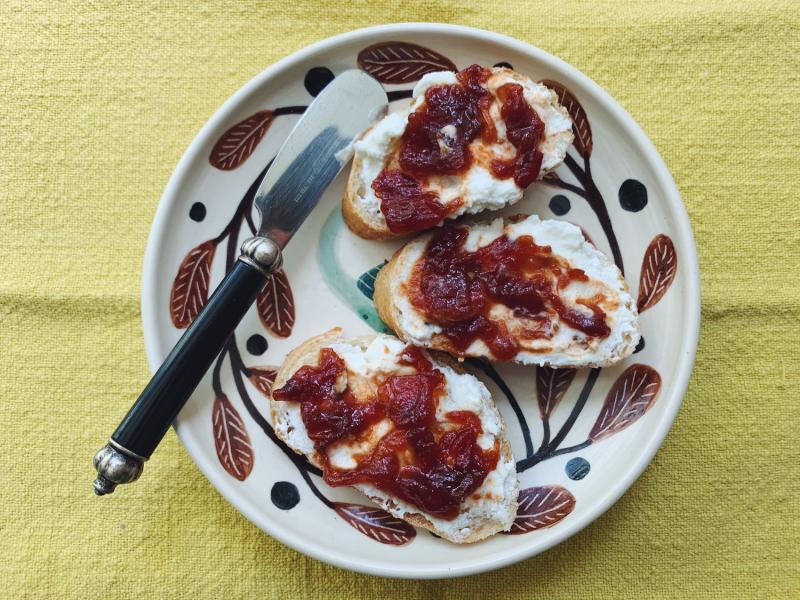 Cooking Time
about 1 hour, plus 15 minutes processing time
Every year at the end of summer, my mother would make green tomato marmalade. It was thick and lemony, thanks to lots of lemon peel, and (to be honest) I did not care for it. For years, I wondered what a similar preserve might taste like with ripe red tomatoes substituting for the unripe green ones. That is how this recipe was born, and I proudly included it in my book Preserving Italy, all about Italian preserving and canning traditions.
It was only later, while reading through my mother's vintage copy of Ada Boni's Il Talismano della Felicità—the culinary bible for Italian women in the 20th Century and still beloved today—that I came across a nearly identical recipe. Boni's recipe is simpler, composed of just tomatoes and sugar. I've spiced it up a bit with pepperoncino, cloves, bay leaf, and a hit of balsamic vinegar.
This lovely garnet preserve is right at home on an Italian cheese platter; think creamy robiola, pungent taleggio, a crumbly pecorino and rich gorgonzola. But it is equally good on a smoked turkey or ham sandwich or spread on crostini, along with a dollop of fresh ricotta.
 
Ingredients Sections
5 pounds (2.3 kg) ripe red plum tomatoes
2 large lemons
2 cups (400g) sugar
2 tablespoons good-quality aged balsamic vinegar
1 teaspoon fine sea salt
8 whole cloves
2 bay leaves
2 fresh chile peppers (peperoncini), minced
Equipment
4 sterilized half-pint jars and their lids
Basic water-bath canning equipment
Instructions
1. Cut off the stem end of the tomatoes and peel them with a vegetable peeler. Cut them in half lengthwise; scoop out and discard the seeds. Cut the tomatoes in half lengthwise again into quarters, and cut each quarter crosswise into two or three pieces. Put them in a large non-reactive, heavy-bottomed saucepan as you work.
2. Zest the lemons into strips with a micro-plane grater, taking care to get just the thin outer skin and no pith. Juice the lemons, discarding the seeds. Add the zest and juice to the pot with the tomatoes. Stir in the sugar, vinegar, salt, cloves, bay leaves, and chile peppers. Bring to a simmer over medium heat, stirring to dissolve the sugar. Continue to cook at a lively simmer until the jam is glossy and thick enough that you can drag a path along the bottom with a wooden spoon or spatula, about 1 hour. When the jam is ready, use tongs to fish out and discard the bay leaves and cloves. (The cloves are not easy to find; don't worry if you can't find them all.)
3. Ladle the jam into the sterilized jars, leaving 1/2-inch (1.2 cm) headspace. Wipe the rims clean, if necessary, with a clean damp cloth of paper towel, and screw the lids on the jars.
4. Process for 15 minutes in a boiling-water bath (see NOTE). Remove the jars from the boiling water with tongs and set them upright on a clean kitchen towel. Let the jars cool to room temperature before storing in the pantry for up to 1 year. Refrigerate after opening.
Makes about 2 pints
NOTE: If you are not familiar with water-bath canning, you can omit that step. Simply ladle the hot jam into clean jars and screw on the lids. Let the jars cool temperature; then store them in the refrigerator, where they will last 1 month. For longer keeping, pack the jam into clean, tightly lidded freezer-safe containers and store in the freezer for up to 1 year.