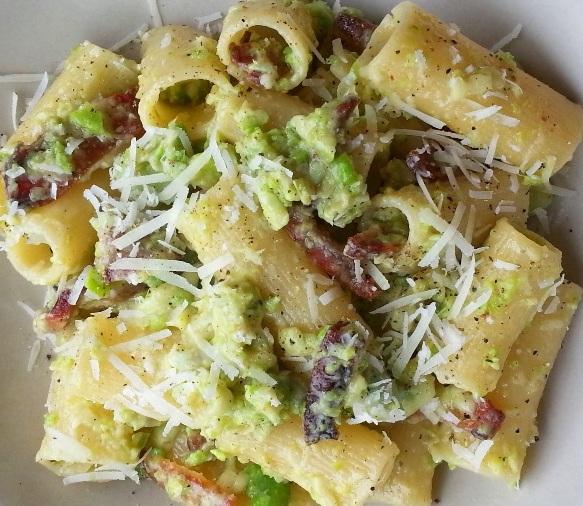 by Amy Gulick, from The Bittersweet Gourmet
Perhaps no other vegetable heralds the arrival of spring in Italy so much as the fava bean. Though not exclusively springtime fare—given the right conditions, they can thrive into summer—fava beans make their customary appearance in March and assume particularly special status on March 19, one of Saint Joseph's feast days (Festa di San Giuseppe). The fava bean-San Giuseppe association, rooted in a miracle attributed to Joseph by which a sole crop of fava beans saved some Sicilian farmers from starvation, manifests in various ways in Italy. In southern Italy and Sicily, for instance, macco di San Giuseppe, a fava bean-based soup, will feature on countless tables on March 19; and they are a common item used in the decorating of Saint Joseph altars, alongside other symbols of abundance and renewal, such as bread, flowers, fruits and vegetables. 
Many popular beliefs hold the fava bean to be a good luck charm. Farmers carry them in their pockets to encourage a good crop. A pod containing precisely seven beans means a period of good luck is coming. During mass on Saint Joseph's day, some Catholics take fava beans to church to be blessed and then given to others for luck and protection against evil. Beyond their ascribed magical and apotropaic qualities, fava beans are also strongly associated with death, as reflected in the tradition of making cookies called fave dei morti for November 2, All Soul's Day (il giorno dei morti or tutti i morti). Practically speaking, these cookies have nothing to do with the fava bean, aside from their bean-like shape; rather, they symbolize an ancient belief that fava beans held the souls of the dead, and recall said belief's attendant rituals. Other, mundane by comparison fava-related customs include taking a picnic of fava beans and pecorino cheese to the countryside on May 1, Italy's Labor Day—a day on which Joseph is again celebrated as the patron saint of workers.
Regional fava bean recipes abound, all yummy, all worth your time. The recipe featured here is inspired by the Ligurian specialty marò, which usually calls for garlic, mint leaves, and sometimes other herbs. What's lovely about any version of this pesto is that it preserves the unique flavor of the raw fava bean, while requiring less than five minutes of your time. Speaking of time, if you've got loads of it, and if you can get your hands on fresh fava beans, by all means use fresh and shell them yourself.  I've made this pesto with both fresh and frozen fava beans, and in truth neither I nor those I cook for discerned a difference in the final product. So use a bag of quality frozen beans if you like. I won't tell the food purists if you won't! 
Ingredients
sour cream
1/3 cup (crème fraîche, or similar; mascarpone also works)
grated Parmesan cheese
1/3 cup
extra virgin olive oil
2-3 Tablespoons
Instructions
Place your beans (completely thawed if using frozen) in the food processor along with the other ingredients. How long you process them will depend on the consistency you prefer. If you're going to toss the pesto with pasta, you might want a creamier pesto. As a crostini topping or dip, a chunkier pesto is nice. Proceed as you see fit to achieve the desired texture, adding additional spoonfuls of oil to thin the pesto if needed, or a bit more cream. You could also add water, but I suggest starting with very small quantities, say a few teaspoons at most.  This pesto keeps well in the fridge for a few days, though it rarely lasts as long as that.
Pictured above: Rigatoni with fava bean pesto, guanciale and pecorino romano. Cook your pasta al dente, and in the meantime cook thin strips of guanciale in olive oil until just turning crisp. When the pasta is ready add it to the guanciale along with several scoops of your pesto, some grated pecorino romano and freshly ground black pepper. Combine well and serve.
Below: Crostini topped with fava bean pesto, grilled prawns and red pepper flakes. This versatile pesto is also good with cheese and crackers, breadsticks, crisps, or even as a sandwich spread.