Ferricelli al Rafano: Pasta with Horseradish Tomato Sauce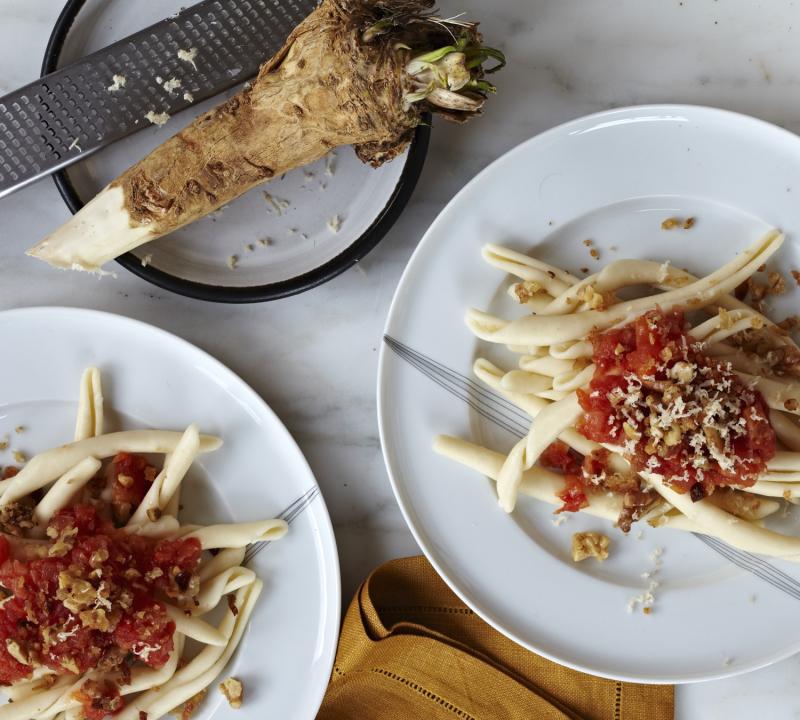 Horseradish on pasta? 
I was a little dubious. I figured my Italian friends were prendermi in giro, the Italian equivalent of pulling my leg, when they told me what I'd be eating. 
But no-- it's real. 
In Basilicata, in the Lucania area (Lucania was the ancient name for the southern area that now covers Basilicata and parts of Campagnia) they have been topping pasta with grated horseradish for centuries. Despite my skepticism, I was amazed to find that horseradish adds a marvelous brightness.  The horseradish must be grated onto each person's dish, right at the table, just like you'd do with cheese. Make sure to use fresh, not jarred, horseradish!
Traditionally, this dish is served with pasta called "ferricelli," named after the iron rod the dough was rolled around. It's a lovely toothsome pasta, but of course, the recipe is fabulous with any shape, size, or type of pasta!  
Serves 4
 
Ingredients
Yellow onion: 1 large, finely minced
Olive oil: 6 tablespoons, divided 
Fresh tomatoes: 1 pound
Baguette bread: 4 thick slices, toasted 
Walnuts: 12 whole walnuts, finely chopped
Ferricelli or any shape pasta: 1 pound 
Fresh horseradish: To taste
Instructions
In a wide saucepan saute the onion in 3 tablespoons of oil until very soft, about 5 minutes. Meanwhile, plunge the tomatoes in boiling water for a few seconds, then peel, deseed and dice. Add the tomatoes to the onions, stir well, and cook, covered, on very low for about 20 minutes.
Meanwhile, coarsely crush the baguette slices and toast in a small nonstick pan, until light golden. Drizzle on 3 tablespoons of oil and stir in the walnuts. Fry until crunchy. Set aside. 
Cook the pasta until al dente, drain, and stir into the tomato sauce until well combined, adding a few tablespoons of the pasta's cooking liquid if dry. Stir in the walnut-breadcrumb mixture and serve. Top with a generous amounts of fresh horseradish grated on a cheese grater.