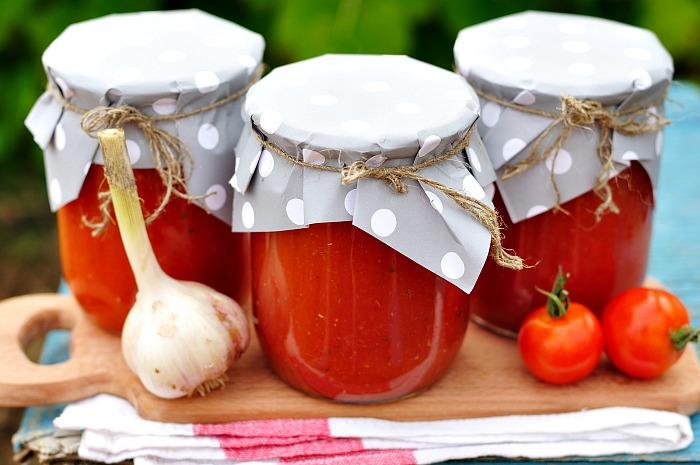 Words and Bruna's Pictures by John Heseltine
Bruna's cantina or store-cupboard contains jar upon jar of her luscious red tomato sauce. It is a staple ingredient used almost daily, and she makes enough over the late summer and early autumn months to last her family for a year.
She harvests the tomatoes from her orto while they are still warm from the sun, and after making the fragrant sauce puts it into all kinds of glass jars which have been carefully collected for the purpose.
Bruna sterilizes her jars in water over an outdoor fire, but you can put them on newspaper in an oven set at its lowest temperature for 30 minutes.
Once the jars have been sterilized, filled with sauce and hermetically sealed, boil them in water for half an hour and then leave them to cool in the same water.
Alternatively, you can just eat it fresh by adding Parmesan cheese and spooning it over pasta.
(enough to serve four people)
Ingredients
chilli pepper
chopped (optional)
extra virgin olive oil
3 tbs
grated Parmesan cheese
(if eating the sauce fresh)
Instructions
Roughly chop all the ingredients. You can peel the tomatoes first by placing them in boiling water and then removing the skins, but Bruna uses hers with the skins and then passes them through a sieve after cooking.
Place all the ingredients in a pan with the olive oil. Do not add any water. Bring slowly to the boil and then simmer for about half an hour, stirring from time to time, until the sauce thickens.
If it becomes dry then add some more olive oil, but never water. Take off the heat and pass the sauce through a sieve or food mill to get it smooth and to remove the skins, if you haven't done so beforehand.
If using the sauce fresh, then stir into it salt and basil. If bottling, then spoon into sterilized glass jars, seal and boil as described above. Serve on pasta or use in any recipes which require tomato sauce.