Homemade Whole-Grain Tagliatelle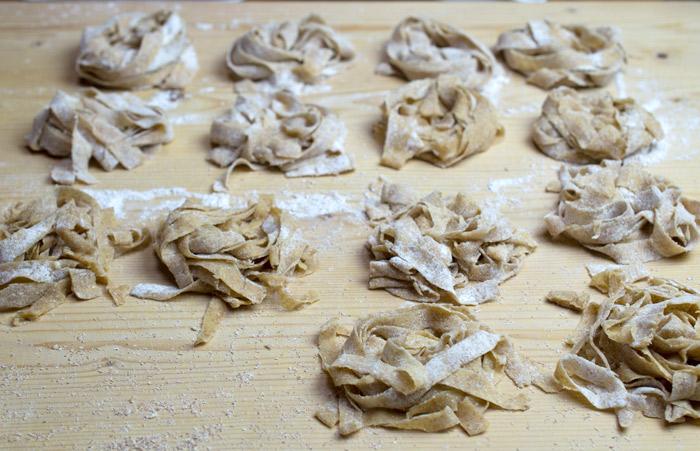 Cooking Time
30 minutes Wait time: 1 hour
Tagliatelle is a type of egg pasta that resembles long flat ribbons and are very similar to fettuccine, which are made in the same manner but are slightly wider in size. The name tagliatelle derives from the Italian word, tagliere, which means "to cut", and is a typical recipe from central and northern Italy, especially common in the regions of Emilia-Romagna, Marche and Veneto. Although tagliatelle is traditionally made from 00 flour, to create a more nutritious pasta, whole grain flour and durum wheat semolina are proposed in this recipe.  The ragù alla bolognese ('Bolognese sauce') is a meat-based sauce that often accompanies tagliatelle, but other meat or vegetable-based sauces are commonly used.
Serves 4
Ingredients
whole grain flour
1 3/4 cups (210g)
hard wheat/semolina flour
1/2 cup + 2 tablespoons (90g)
eggs
3 large (2.2-2.4 ounces each)
extra virgin olive oil
1 tablespoon
Instructions
Add the flours, eggs, salt and extra virgin olive oil to the bowl of a stand mixer and attach the dough hook. Mix on speed 1 for 3-5 minutes. Stop the mixer and press against the dough with your finger. If it leaves an imprint (like a ripe peach) and doesn't stick to your finger, it's ready. If the dough sticks to your finger, add a little more flour and continue mixing until arriving at the correct consistency. If you don't have a stand mixer, follow the same procedure, but knead by hand.
Divide the dough into two balls and wrap each one individually with plastic wrap. Refrigerate for 30 minutes.
When the dough is ready, attach the pasta roller accessory and sprinkle a little flour on top. Divide each ball into two pieces so you have four total. Take one piece and cover the rest with a towel. Flatten the piece into a rectangle and generously flour the top and bottom. Pass it through the machine on speed 1. Fold the dough in thirds and pass it through again. Repeat one more time before moving on to the next level. Pass the dough several times reducing the thickness from no. 0 to 5. Lay the pasta sheet on top of a floured work surface, then repeat with the remaining three balls of dough.
Alternatively, you can roll the dough out with a rolling pin on a a generously floured wooden board. Divide the dough into 4 total pieces and roll each one thin enough that when you hold the dough up against a light you can see the light almost pass through. Let the sheets dry for 5 minutes.
If you have a tagliatelle accessory, attach it to the stand mixer and use it to cut the sheets of dough. Alternatively, flour the pasta sheet and roll each side towards the center. Even off the ends with a knife. Slice the rolled sheet to create strips that are 1/4 inch (10mm). Unroll the strips and toss them with a little more flour. Let them dry for 30 minutes.
Bring a large pot of water to boil; add course salt then dump the tagliatelle inside. Cook for 2-3 minutes then check one to see if one is ready. The pasta should be "al dente" or slightly firm. If it is not ready, continue to cook for 1 minute and check again. Drain and serve with your sauce of choice and a big sprinkle of freshly grated Parmesan cheese.
Conservation
The tagliatelle can be stored in the refrigerator for 1 day max, or you can freeze them. The best way to store them in the freezer is to take 3-4 strips in one hand and roll them around your fingers as if you were rolling up a cord to create small nests. Put them on a cookie sheet so that they are not touching. Tuck them in the freezer until frozen, then you can place them in plastic bags, one on top of the other and take out the quantity you want as needed and they won't stick together. Two little nests are 1 portion size.