Kale Pesto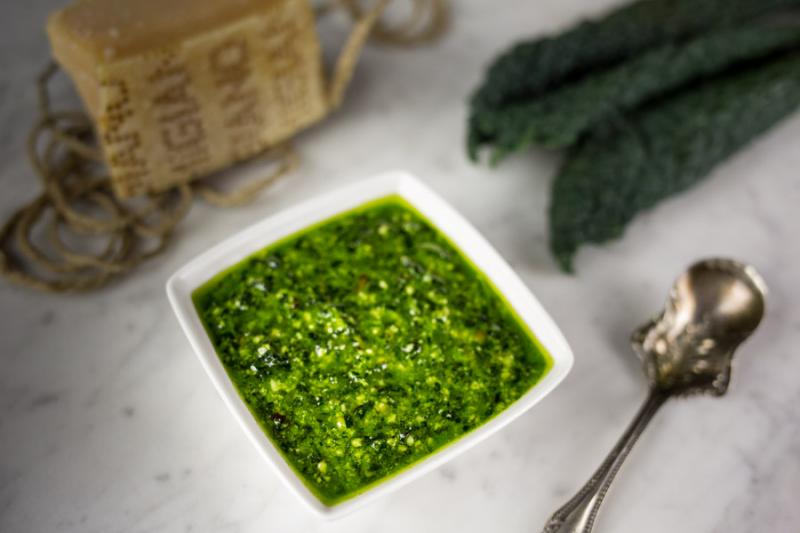 Kale pesto, or pesto di cavolo nero, is a delicious and versatile autumn/winter sauce that can be used in all your favorite holiday dishes. It's an alternative to pesto alla genovese and is rich in flavor thanks to the Tuscan kale, Parmigiano Reggiano cheese and walnuts. Curly kale, or cavolo riccio,  can also be used in this recipe. Mix the pesto with a warm bowl of pasta and top with roasted pumpkin and pine nuts or use it as a sauce for a quick whole grain farro salad with seasonal vegetables and legumes. 
Serves: 1 cup
Ingredients
extra virgin olive oil
3/4 cup
tuscan kale leaves
3 cups torn Tuscan kale leaves (no stems)
garlic
1 small clove garlic, skin removed
Parmigiano Reggiano
1 cup grated Parmigiano Reggiano cheese
Instructions
In a food processor, add the kale, garlic, walnuts, Parmigiano Reggiano, salt and black pepper. Blend until everything is well mixed. Drizzle in the olive oil and continue to blend for another 30 seconds. Store in the refrigerator in an airtight container covering the top with a layer of extra virgin olive oil and consume within 5-7 days, or freeze and use within 2-3 months.