Le Frittelle di San Giuseppe for Father's Day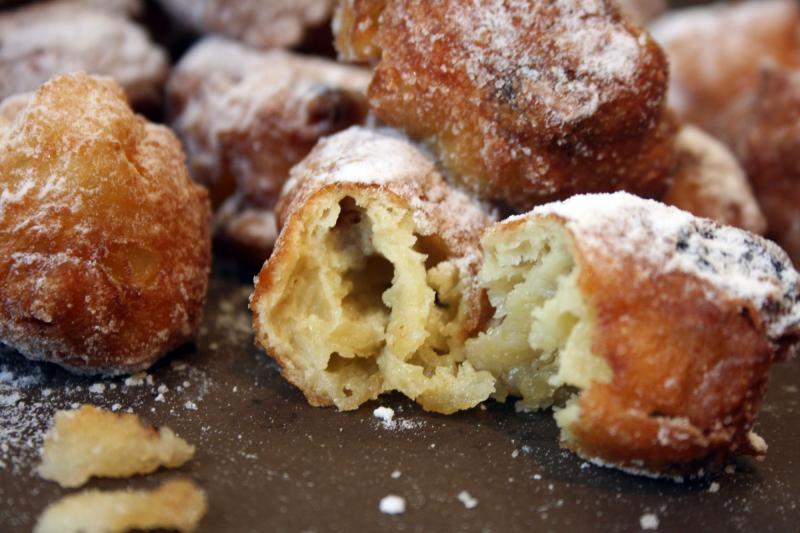 March has always been one of my favourite months. Winter is almost over, days are slowly growing longer, and there is no pressure of any kind for presents (be it Christmas or Valentine's Day).
But there's also another reason to love March: the frittelle di San Giuseppe. On the 19th of March, the first day of Spring equinox, every family in Italy celebrates the day of Saint Joseph or Father's Day, la Festa del Papà. In many towns, particularly in the countryside, bonfires are lit to mark the end of the cold season and, in the North of Italy, leftover rice kept in larders during the Winter months, is used to make little cakes to celebrate the day and, usually,  break Lent.
These little fried rice balls fill many squares in Siena and Il Campo fills up with the fragrant smells of vanilla and orange. They are still served in paper cones and heavily snowed with icing sugar - I would not worry about calories intake, as soon as your teeth break that fragrant crust to then find a soft heart of rice all your worries about diet vanish.
This rice version is typical of Siena, but of course, there are many other variations. In Florence for example they fill them with custard, in Naples (which calls them zeppole) they are made of a special soft dough rather than rice and filled with custard or a butter-and-honey mixture. 
My mother has never missed a single year making 'frittelle'. And as you need to make the rice mixture the night before, when I was a little girl I loved sneaking into the kitchen after dinner and steal some of the sticky rice already flavoured with orange zest and vanilla.
They are really easy to make so start getting the ingredients ready - I think you'll find the effort well worth it and make your Dad, whatever age, really happy!
Instructions
Cook the rice adding the salt and the orange zest. When it starts boiling, add the sugar and vanilla, and then lower the heat and let it cook until all the water has been absorbed. It has to look like a big lump. Leave it to set over night.
When you are ready to start making frittelle, add the flour and mix well. With the help of a tea spoon, form small balls and drop them in hot frying oil. Let them cook turning them regularly with a slotted spoon until they have a golden colour.
Drain the frittelle and leave them on a plate with kitchen paper. Sprinkle icing sugar immediately. My advice is to make a few at the time so that you can enjoy them, as they should be, really hot.
Happy Father Day and San Giuseppe to all fathers in the world!