Lemon, Prawns and Scampi Risotto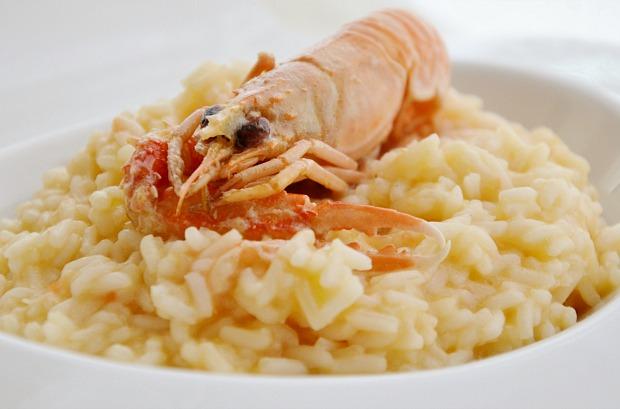 Simple but sophisticated, this dish is perfect for a dinner party or an elegant supper.
(serves four-six people)
Ingredients
rice
350 g, preferably Vialone nano from Verona
white onions
1, finely chopped
garlic
1 clove, finely chopped
parsley
a handful, finely chopped
grated Parmesan cheese
a handful
Instructions
Peel and clean the prawns and the langoustines. Cut into small pieces and place in fridge. Put the remnants of the shellfish (heads, shells, claws etc.) into a pot with roughly chopped celery, carrots and onions and cover with water. Simmer for 30 – 40 minutes to make stock. Strain and keep warm. Peel the lemon, cut peel into julienne strips and blanch.
In a frying pan, fry the onion and garlic in a little olive oil until transparent. Add the parsley, then the prawns and langoustines and the lemon peel. Cook for a few minutes. Add the rice, toss well, and add the stock a ladleful at a time until the rice is cooked al dente, stirring constantly. Take off the heat and add the Parmesan cheese and a drizzling of olive oil.
Garnish with a lemon leaf and, for special occasions, a langoustine.