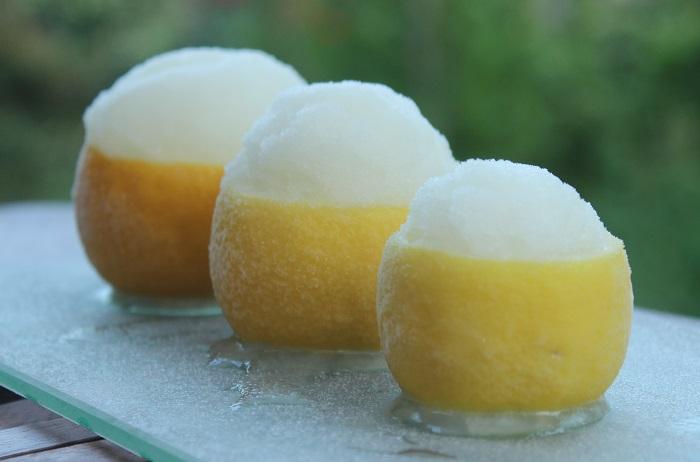 With so many Italian specialty products, speculation, anecdote, and long-held rivalries tend to supplant hard facts. The lemon liquor limoncello is no exception. According to some accounts, limoncello has been around for little over a century, first served by a woman named Maria Antonia Farace at her pensione on Capri in the early 1900s. (Farace's grandson, in fact, was the first certified producer of limoncello, which may account for this tale.) Others dispute this, pointing to limoncello's popularity among Sorrento's upper class families during this same period,  or even to the Amalfi fishermen several centuries prior said to drink lemon liquor come a chilly morning. While it's likely true limoncello was born in one of these above-mentioned places, who can say with certainty what genius of the past first decided to soak lemon zest in alcohol and combine with sugar and water to give us this delightful concoction? No matter. The important thing is that limoncello was invented—and in a relatively short span of time has all but conquered the world.
To make this easy sorbet, start with either your own batch of homemade limoncello, or look for a bottle bearing the IGP (Protected Designation of Origin) label and made with lemons from Sorrento or the Amalfi Coast. The flavor is spot on, like eating frozen limoncello. 
Ingredients
fresh lemon juice
1/2 cup
lemon rind
1 carved per serving (optional)
Instructions
Bring the water and sugar just to a boil in a sauce pan, stirring frequently, until you have a thick, clear syrup. Turn off the heat and let cool. Transfer the syrup to a bowl and add the lemon juice, lemon zest, limoncello, and salt. Stir well and transfer to a ceramic baking dish or plastic container, cover, and freeze for at least 3 hours. Check the sorbet periodically and move it around with a fork. When ready, fork the sorbet then use an ice cream scoop to serve.
To make the lemon cups, slice ¾ of an inch off the stem side of the lemons. Using a paring knife and teaspoon, carefully cut and scoop out the lemon pulp. Do this over a bowl so you can save the juice. Slice about ¼ inch from the bottom of the lemons so they will stand up, being careful not to cut so much you make a hole on this side, otherwise the sorbet will leak through the bottom. Freeze the cups along with the sorbet. When the sorbet is ready, fill the cups and place them back in the freezer until serving. You can make a batch of several sorbet cups in advance.