Mushroom Carpaccio with Gremolata and Shaved Parmigiano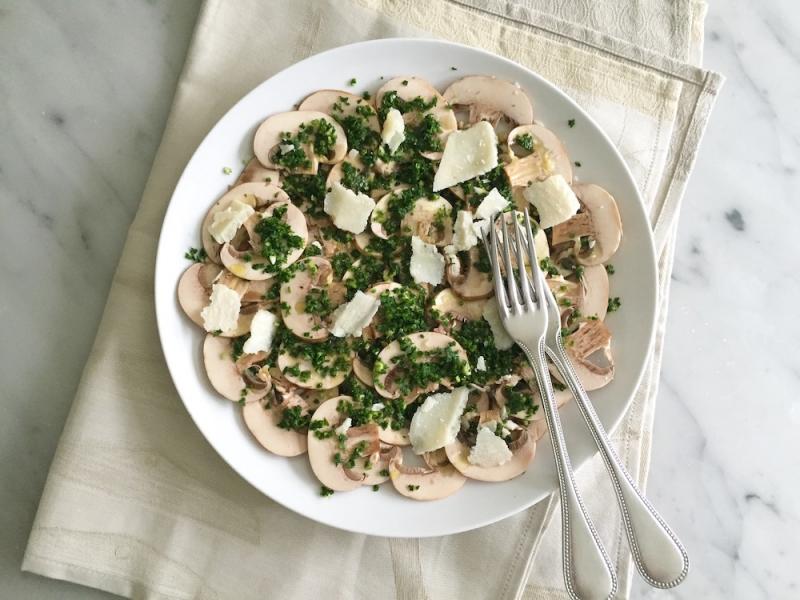 Cooking Time
15 minutes prep plus 15 to 30 minutes resting time before serving
I grew up spending my summers in Italy, at the beach on the Adriatic coast. For all those years, Italy to me was sun, sand, water and lots of seafood and gelato. It wasn't until 2004, when I was working on my first cookbook, that I spent part of a fall there, in Umbria to be precise. I was there to research soups and stews, but I fell in love with fresh porcini, which were at the height of their season. Driving from hilltop to hilltop, we came across cars precariously parked along the narrow curvy roads, temporarily abandoned by their drivers who were off in search of the prized mushrooms. 
Porcini, fragrant and meaty, were featured in nearly every restaurant we ate in. We enjoyed them grilled, sautéed and spooned on top of crostini, tossed with tagliatelle, even on top of pizza. But my favorite way was carpaccio-style—sliced paper-thin, drizzled with excellent olive oil and scattered with scaglie, or shavings, of Parmigiano cheese.
Here at home in the U.S., it is almost impossible to find fresh porcini, so I make use of what I find at the market, usually large button mushrooms or portobellos. Both are reliable but they don't have loads of flavor. In this recipe I've punched them up with a bright lemon dressing and a sprinkle of garlicky gremolata. This salad goes beautifully with the hearty dishes of the season—roasts, stews, and braises. And it makes an excellent, light Thanksgiving side dish.
Makes 6 servings
Ingredients
Fresh parsley
1 packed cup fresh flat-leaf parsley leaves
garlic
1 large or 2 small cloves garlic, coarsely chopped
lemon zest
Finely grated zest of 2 lemons, plus 3 tablespoons freshly squeezed lemon juice
sea salt
1/4 teaspoon fine sea salt
pepper
1/4 teaspoon coarsely ground white pepper, plus more for garnish
extra virgin olive oil
3 tablespoons
mushrooms
6 large white button mushrooms, 2 1/2 to 3 inches in diameter, sometimes called "stuffers"
baby portobellas
6 large baby portobellas, 2 1/2 to 3 inches in diameter
Parmigiano Reggiano
Shavings of Parmigiano-Reggiano cheese
Instructions
On a cutting board, chop parsley together with garlic and lemon zest until finely minced.
In a small bowl, whisk together lemon juice, salt, and pepper. Slowly whisk in oil until emulsified.
Gently wash and dry mushrooms. Trim ends but leave stems on. Cut mushrooms vertically into very thin slices. Arrange slices slightly overlapping on a large serving platter, or on 6 individual salad plates. Drizzle lemon dressing over mushrooms. Sprinkle gremolata and then scatter the shaved Parmigiano on top. Cover lightly with plastic wrap and let marinate at room temperature 15 to 30 minutes before serving.