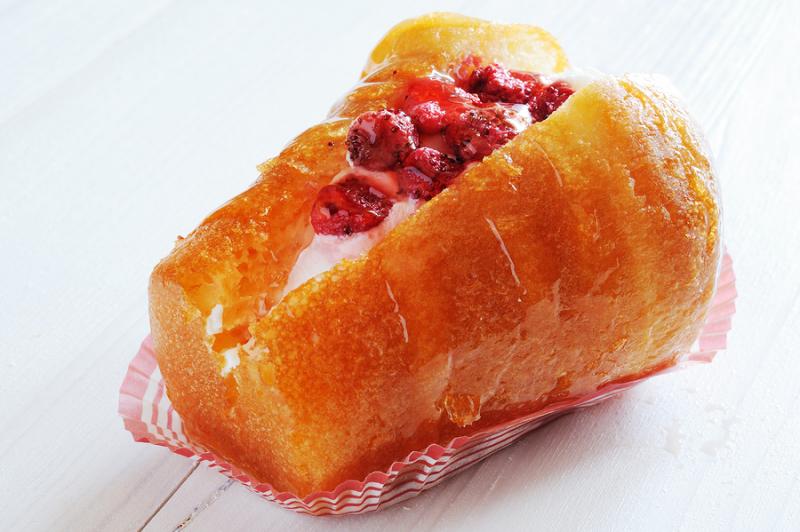 Preparation
Dissolve the yeast in 30 ml of water, then mix it with 30 gr of flour in a bowl, knead the ingredients until you get a soft dough. Place the dough in a bowl, cover with plastic wrap and set aside in a warm place for 30 minutes or until the mixture has doubled in volume. (This type of pre-fermentation used in Italian baking is called biga or lievitino.)
Pour the remaining flour in a stand mixer fitted with a paddle attachment, add the flour and turn the mixer on low speed (if you do not have a mixer, you can knead it by hand), then incorporate the biga.
Break the eggs and beat them with a fork then pour them slowly to add them to the flour while the mixer is already working; finally add 30 gr sugar. Let the flat beater knead the mixture for about 15-20 minutes.
When the dough comes away from the edges of the mixer and sticks around the beater, you will know it is ready. At this point, remove the flat beater and use the bread hook instead.
Cut the butter into small cubes and place it outside the fridge until it get soft, sprinkle it with salt and then add it to the mixture one piece at a time, while the hook is turning at a higher speed. Do not add other cubes of butter until the previous one has been fully absorbed. You will get a very soft, stretchy and elastic dough. With a spatula clean the edges of the mixer's bowl, then cover with plastic wrap and place in a warm place to rise for about three hours.
In the meantime, you can prepare the syrup. Pour 2l of water in a tall, narrow pot, add 700 gr of sugar and the orange and lemon peel. When the water boils and the sugar is dissolved, turn off the heat and add the rum, then cover with a lid and leave to infuse.
When the batter is ready, using a ladle or your hands stir the batter down and scoop it into 20/22 babà moulds (6 cm high - 4 cm diameter) half way and fill the remaining moulds previously buttered and floured. Then let the dough rise again in a warm place, until it reaches the edge of each mould. Bake them in the lower part of a preheated oven at 180° for about 30-35 minutes, until they are golden, then take them out and let them cool down. Remove them from the moulds and let them cool down even further and dry on a wire rack. Finally, soak them into the rum syrup, stirring gently with a wooden spoon. When they are soaked take them out with a slotted spoon and gently squeeze them, then place them upside down on a wire rack to drip. Brush them with the apricot jam that you have previously passed through a strainer pressing with the back of a spoon and diluted with 2-3 tablespoons of syrup. You can serve them filled with crema (custard) or panna montata (whipped cream) and decorate with wild strawberries or cherries.