Panpepato: Chocolate Covered Spiced Fruit Cake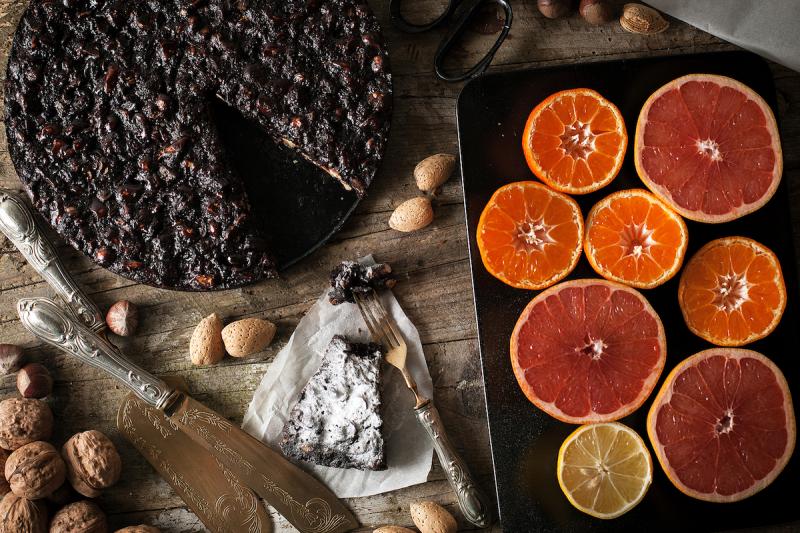 Cooking Time
1 hour 15 minutes
Two specialties of Italy, panforte "strong bread" and its predecessor panpepato "peppered bread", are not breads at all, but closer to fruitcakes: dense, chewy confections of dried fruit, honey, and spices. Their treats get their names from the many spices in them, including black pepper. There are many versions of this classic Christmas holiday dessert,  with slight variations, in several regions including Tuscany, Umbria, and Campania. 
This recipe for yet another version is from the city of Ferrara in Emilia-Romagna created in the 16th century. Previously a similar sweet was called Pan del Duca (Duke's bread) but once Ferrara became a territory of the Papal State the name was changed to Panpapato, "Papacy's bread," was made in the shape of a Cardinal's hat in homage to the Papacy.  It contained luxury ingredients of the time including spices, citrus, and honey.  Chocolate, the recent New World import, was very rare in the 16th century and only used infrequently. The chocolate covering wasn't added to the recipe until 1902.
Panpapato of Ferrara was awarded IGP (Protected Geographical Indication) status by the EU and manufacturers must follow strict rules governing ingredients and preparation methods for this Ferrara classic.
Ingredients Sections
All-purpose flour, 7 ounces
Cocoa powder 3 ounces
Whole almonds (unblanched) 3 ½ ounces
Candied orange peel, chopped 3 ½ ounces
Orange Zest of 1 orange
Ground cloves ¼ teaspoon
Ground nutmeg ¼ teaspoon
Ground black pepper 1/8 teaspoon
Honey 3 ½ ounces
Milk ½ cup
Dark chocolate 7 ounces
Instructions
1. Preheat the oven to 300 F. Line an 8-inch springform pan with parchment paper. In a large bowl, combine the flour, cocoa powder, almonds, candied orange peel, orange zest, cinnamon, cloves, nutmeg, black pepper, and honey and mix with a spoon.
2. Slowly add the milk and mix until well combined.  Form into a large ball and gently press into the prepared pan.
    
3. Bake for about 1 hour and 15 minutes or until firm.  Remove from the oven and let cool.  Meantime melt the chocolate in a heatproof bowl in the microwave or set over a pan of simmering water. Drizzle the chocolate over the cooled cake and let set before slicing.