Pasta alla Deficeira: Pasta Cooked in White Wine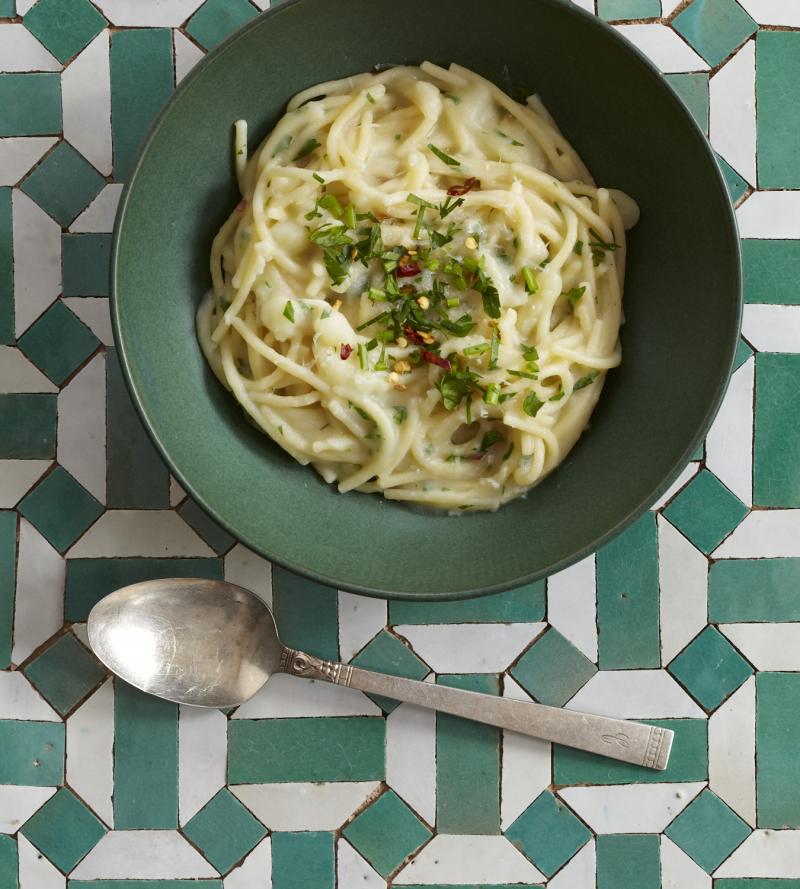 Cooking pasta in wine instead of water creates an amazingly aromatic sauce. The flavor of the wine really stands out, so be sure to pick one with pronounced fruity flavor and crisp acidity like Soave or pinot grigio.
Traditionally, this dish was prepared at the height of the oil-pressing season in Liguria, offered by the olive growers as a gesture of celebration to those who helped with the harvest. The name of the dish is from the Liguria dialect for olive press, deficeira, and, fittingly, it's served with a generous final drizzle of olive oil.  A nice choice of oil is the delicate, fruity variety made from the tiny taggiasca olives of Liguria. 
It isn't only Liguria where wine meets pasta and wine meet on the plate. In several regions, Italians add a splash of wine, instead of sauce, to cooked pasta. In Piedmont and Emilia Romagna, it's common, especially for the older generations, to top anolini or small ravioli with red wine. In Molise, they make a simple pasta soup called scattone, where the broth is just the pasta's cooking water seasoned with red wine and pepper. A fabulous medieval festival called Sagra dello Scattone is dedicated to this centuries-old dish, held each year in August in the Molise towns of Torella del Sannio and Bagnoli del Trigno. In the winter, some farmers even enjoy a sort of liquid pasta drink made from the hot pasta cooking water mixed with red wine and black or red crushed pepper.
Serves 4 
Ingredients
White wine 1 (750-ml) bottle
Bay leaves 2
Pasta 1 pound, any shape
Salt and pepper to taste
Olive oil 4 tablespoons
Aged cheese, such as Grana Padano - To taste, grated
Parsley - Minced as garnish, optional
Instructions
In a large saucepan, bring the wine and bay leaves to a boil. Add the pasta, lower the heat to a low boil, and cook until the wine is absorbed and the pasta al dente, about 10-20 minutes, depending on the pasta shape. Add more wine or hot water a little at a time, if it seems to be getting dry before al dente.  If it is too wet when the pasta is almost al dente, raise the heat to high to burn off the remaining liquid and alcohol. 
When al dente, remove from the heat and stir in the olive oil. Season with salt and freshly ground black pepper or red chili flakes to taste. Serve topped with grated cheese and parsley, if you like.