Pear, Walnut and Burrata Bruschette with Organic Saba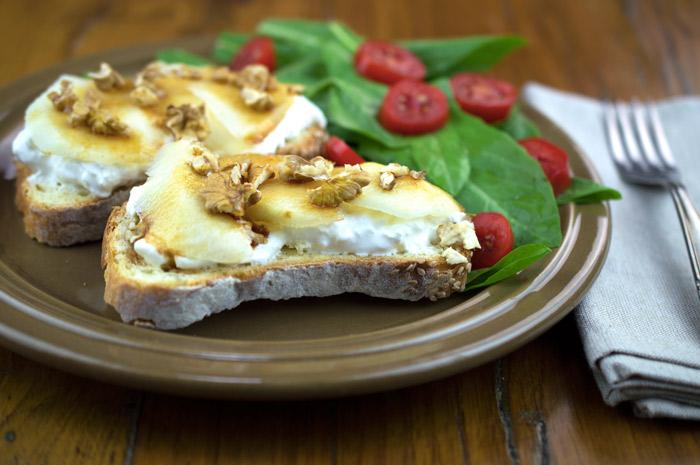 Traditional balsamic vinegar is well-known throughout the world, but few know of saba—also known as sapa, mosto cotto o vino cotto.  Made in Emilia-Romagna, saba is a sweet, dense syrup that dates back to Roman times when they reduced grape must to naturally sweeten foods and drinks. 
Saba is primarily made from Trebbiano or Lambrusco grapes. The grape must is slowly cooked in a copper cauldron for a long period of time until it's about a third of its original volume. The dark brown syrup that is produced is slightly acidic and sweet. Although similar in appearance and taste to traditional balsamic vinegar, it isn't nearly as expensive.
This natural condiment is delicious drizzled over fish, vegetables or salads, as well as swirled into dessert batters or on top of gelato or aged cheeses. Another common use of saba is to flavor snow to make an all natural granita.
Saba is traditionally made from grape must, but apple saba is becoming quite popular and is exquisite on top of these pear, walnut and burrata bruschette. 
For 2
Ingredients
burrata
7 ounces (200g) or stracciatella cheese
walnuts
4, shelled and chopped
bread
4 slices, rustic Italian bread preferable
saba
Organic apple or grape, as needed
Instructions
Toast the bread then layer with burrata, pear slices and walnuts. Drizzle the saba on top and serve alone or alongside a side salad. Buon appetito!