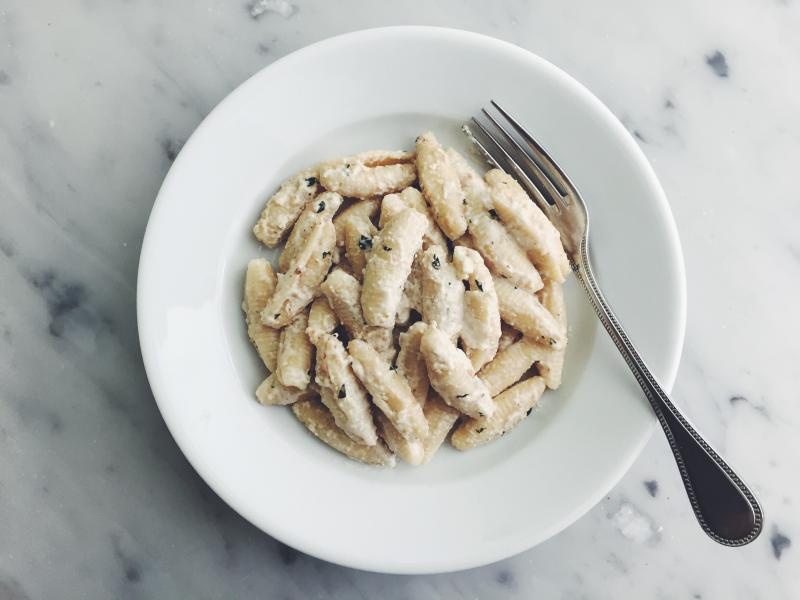 Cooking Time
10 minutes plus cooling
I often think of Ligurian cuisine as "green." Green as in classic pesto Genovese; as in the prominent use of herbs like basil, marjoram and borage; as in torta Pasqualina, the savory Easter pie made with tender spring greens or baby artichokes. The climate of this rugged place along Italy's northern coast ~ lots of sun and sea breezes ~ makes Liguria a colorful paradise, in which herbs and citrus grow in abundance.
But there is another food story here. Venture into the shaded foothills of the Ligurian Alps in the western part of the region, and you'll come upon a cuisine known locally as "la cucina bianca," or "white cooking." The ingredients found in this high alpine country, not far from the French border, are notable for their lack of green ~ pale cabbage, chestnuts, garlic, leeks, dairy and cheeses, chestnuts, pine nuts and walnuts.
I first heard about "la cucina bianca" from my friend Emanuela Raggio, who lives in Genoa. Emanuela is co-founder of Beautiful Liguria, the boutique tour company that I collaborate with for my Liguria culinary tours. She told me about the unique character of this frugal, nutritient-dense cuisine that has sustained generations of mountain shepherds. I was so intrigued that on our first visit some years ago I made my family drive two hours into those wooded hills to a restaurant that specializes in "la cucina bianca." We enjoyed an entire "white" meal that included delicate potato-stuffed dumplings, pasta tossed with a creamy ricotta sauce, and sausage-stuffed cabbage.
When we got home I pulled out Fred Plotkin's book on Ligurian cuisine, "Recipes from Paradise: Life and Food on the Italian Riviera." While I didn't find any specific mention of "la cucina bianca," I did see a number of recipes that fit the description, including one for pesto bianco, made with walnuts, garlic, and ricotta. It sounded similar to the sauce from the restaurant.
I've made it a few times, tweaking it here and there ~ I toast the walnuts and add a small amount of chopped herbs, both of which add depth to the delicate ricotta flavor and keep it from fading when tossed with pasta. This is a good pesto to make with a mortar and pestle, as walnuts are easy to pound. But you can use a food processor or a blender; just be sure not to puree the pesto completely, as you want it to have some texture. In addition to saucing pasta or gnocchi, you can spread this creamy pesto on pizza or dollop it on crostini, or even layer it in lasagne. 
Makes about 1 3/4 cups (400g) pesto, enough to dress 2 pounds of pasta
Ingredients
1/2 cup (57g) walnut halves
2 small cloves garlic
10 basil leaves, chopped
Leaves from 1 sprig marjoram
2 tablespoon extra-virgin olive oil
1 teaspoon fine sea salt
Freshly ground white pepper
1 1/2 cups (340g) well-drained whole milk ricotta
Instructions
1. Heat the oven to 350° F / 176° C. Spread the walnuts on a small baking sheet and bake for 5 to 7 minutes, until they have turned a shade darker and are fragrant. Let them sit until cool enough to handle, then rub off as much of the thin skins as possible.


2. Transfer the walnuts to a marble mortar and pound to a coarse paste with the garlic. Add the basil and marjoram leaves and drizzle in the oil. Pound and stir with the pestle until thoroughly combined. Sprinkle in the sea salt and a few grindings of white pepper and stir well. Add the ricotta to the mortar by the spoonful, stirring to incorporate it with the other ingredients. Once you have added all the ricotta, give the pesto a vigorous stir to make it light and fluffy. Taste and add more salt and pepper if necessary.

 If using a food processor or blender, blitz the nuts to grind them up. Add the garlic, herbs, oil, salt and pepper and process or blend again. Add the ricotta and process/blend briefly to incorporate the ingredients. Transfer to a bowl and stir vigorously to incorporate air and make the pesto fluffy.
3. If not using immediately, spoon the pesto into a container with an air-tight lid and refrigerate. Otherwise, if you're going to use the pesto as a sauce for pasta, transfer it to a bowl and stir in 3 or 4 tablespoons of whole milk to loosen it.