Pipi e Patati (Calabrese Fried Peppers and Potatoes)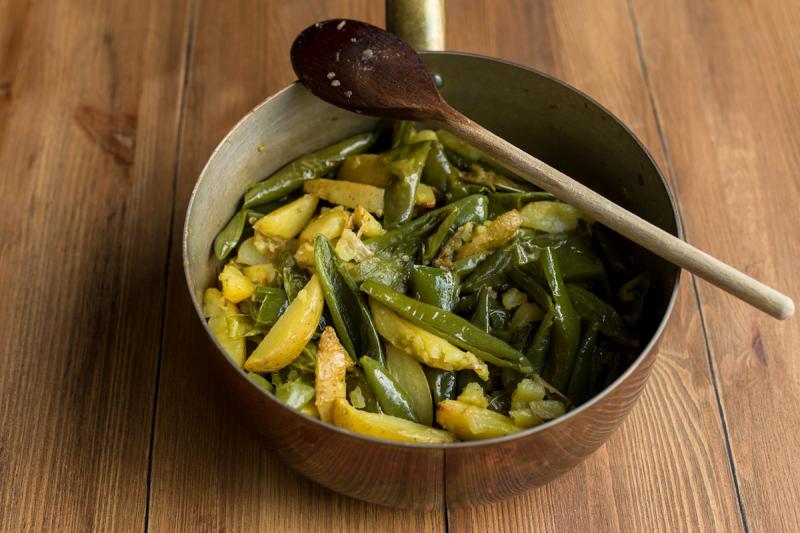 Like many second and third generation Italo-Australians, I didn't actually grow up speaking much Italian, or rather, the Sicilian and Calabrese tongues native to my nonni and parents. That would come later, with study in my teenage years and most importantly, after I made the decision to come and live in Italy in my mid-twenties (Eleven years later, and I'm still here!).  Despite my limited Italian as a young girl, I had little difficulty understanding all the food-related terms used by my family. Few Calabrese words made me happier than the mention of pipi e patati – meaning 'peppers and potatoes'-for dinner.
It's thought that this flavourful combination of fried potatoes and sweet peppers originated as a filling for the bread known as pitta chjina ('stuffed bread') in the Italian peninsula's southernmost region. Contadini or peasants who spent many long days toiling the fields often brought a pittas tuffed with the fried New World nightshades for lunch along with them.  The bread dough enveloping the peppers and potatoes was the perfect foil to the often intense sun's rays beating from above, not to mention source of precious extra calories.
Today, this dish is generally served as a contorno or side to a meaty main, with lots of bread on hand to mop up the abundant, garlic-infused olive oil the peppers and potatoes are cooked in. And, as with many traditional dishes, every Calabrese home cook has their own way of preparing it. Some recipes will call for adding a few slices of onion to that basic template of olive oil, garlic, peppers and potatoes. As for cooking methods, some people prefer to cook the potatoes and peppers altogether from the beginning until the potatoes are almost spappolate or mushy.  Others like their potatoes on the crisper side. To keep these intact, they opt cook the potatoes and peppers separately for much of the given cooking time.  
My preference is for something in between. I fry my peppers and potatoes separately   for about ten minutes. These are then brought together for the final ten minutes so my potatoes render slightly and take on the flavors of the fleshy peppers but still remain whole. If, however, you don't like the idea of having two frying pans on at once on your stove as I've indicated below, you may want to do what my fellow food writer, outstanding Calabrese homecook and member of my extended family Marialuisa Griffo does. She cooks her potatoes first, removes these,  cooks her peppers in the same saucepan and then allows the potatoes back into the fold again towards the end.
My nonna Maria, after migrating to Australia in the late 1960s, used whatever bell pepper she could get her hands on when making this dish, provided it was green. She always preferred the slightly bitter aftertaste of green peppers and made just about all her sweet pepper-based dishes (and there were many in her Calabrese cooking repertoire) with green ones only. In typically Italian fashion, she complained she couldn't digest their red and yellow counterparts. After many years of making this dish, I have come to fall in love with pairing the pasty potatoes with a slightly bitter and less fleshy variety that lends itself perfectly to frying – the long and thin green friggitellipeppers pictured. Of course, do feel free to use red and yellow varieties  if wanting a slightly sweeter and fleshier result though.
Ingredients (serves 4 generously)
Ingredients
friggitelli
600 – 700g sweet bell or friggitelli peppers
garlic
1 large garlic clove
extra virgin olive oil
as needed
crusty country bread
to serve
Instructions
Wash, scrub and dry potatoes and peppers throughly. Peel potatoes (if using patate novelleor new potatoes, you may wish to leave their skins on) and cut into long wedges no thicker than 1 cm. Cut the peppers into strips, discarding their stalks, seeds and pith. Peel garlic and dice finely.
Heat enough olive oil to coat the surfaces of two non-stick saucepans on low-to medium heat. Divide the finely diced garlic among them and allow to simmer gently until it releases its aroma. Add the potatoes to one and the peppers to the other. Cook for 10 minutes or until the potatoes are golden brown all over and the peppers have begun to render.
Remove the frying pan with the peppers from the heat, drain of excess oil and add the peppers to the saucepan containing the potatoes. Add sea salt, and stir gently. Lower heat and cook covered for ten more minutes or until the potatoes and peppers are cooked through and have softened slightly so that they've come together.  Serve warm or at room temperature as a accompaniment to a meaty main, with a slice (or two!) of crusty country-style bread to mop up the sweet pepper and garlic-infused oil.