Polpette di Melanzane: Eggplant "Meatballs"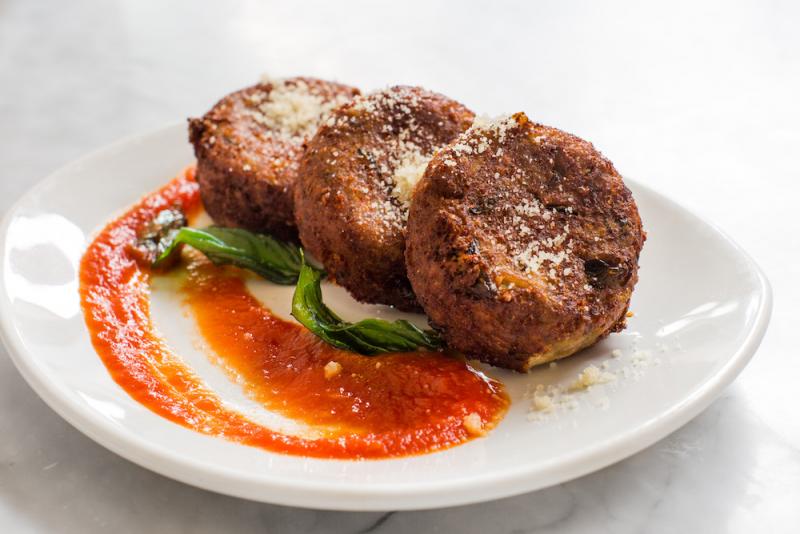 In the past, meat was scarse in most Italian homes resulting in many meatless meatballs like Abruzzo's cheese-egg balls. Polpette di Melanzane, eggplant balls, are a traditional cucina povera dish of southern Italy, made with eggplant, eggs, cheese and bread. Eggplant balls can be served hot, of course, but in summer are also excellent at room temperature or even cold.  
Most historians believe that eggplants originated in India and China. They were introduced into Southern Italy through trade with the Arabs in the 9thcentury. Eggplant is in the nightshade family, whose leaves are poisonous, so for many centuries eggplant was grown only as an ornamental plant. They were thought to be inedible or worse, to cause illnesses like fever and epilepsy. The Italian word for eggplant melanzane comes from mala insane, "mad apple."
This recipe is served at Rossopomodoro which was founded in Naples by three 'scugnizzi,  an Italian term meaning "street kids," who over the years have opened many pizzeria-restaurants throughout Italy and the world, including in FICO, a huge food-themed park in Bologna.  
Serves 4 to 6
Ingredients
oil for frying (possibly extra virgin olive oil)
garlic
6 large cloves, 2 left whole; 4 finely minced
eggplant
2 pounds, peeled, deseeded and cut into cubes
quality white bread
1 pound
buffalo mozzarella
8 ounces, diced
pecorino romano cheese
4 ounces, grated
pecorino cheese
Grated, to taste
basil
1 bunch, leaves only, finely chopped
tomato sauce
homemade or store bought, 2 to 3 cups
Instructions
Heat several tablespoons of oil and 2 whole garlic cloves in a large frying pan until the garlic is golden. Remove and discard the garlic. Cook the cubed eggplant in batches until golden. Season to taste with salt and pepper. Put into large bowl and reserve.
Remove the crust from the bread, cube and soak in a little water for about 15 minutes until soft. Squeeze out excess water and finely crumble into a large mixing bowl. Add in the mozzarella, Pecorino Romano, minced garlic and basil. Season to taste with salt and pepper. Add in the egg and cooked eggplant and mix until well combined.
Form into balls, about 2 ounces each. Flatten each ball and fry in oil, until golden on both side. Serve with tomato sauce on the side.
Recipe courtesy of Rosso Pomodoro