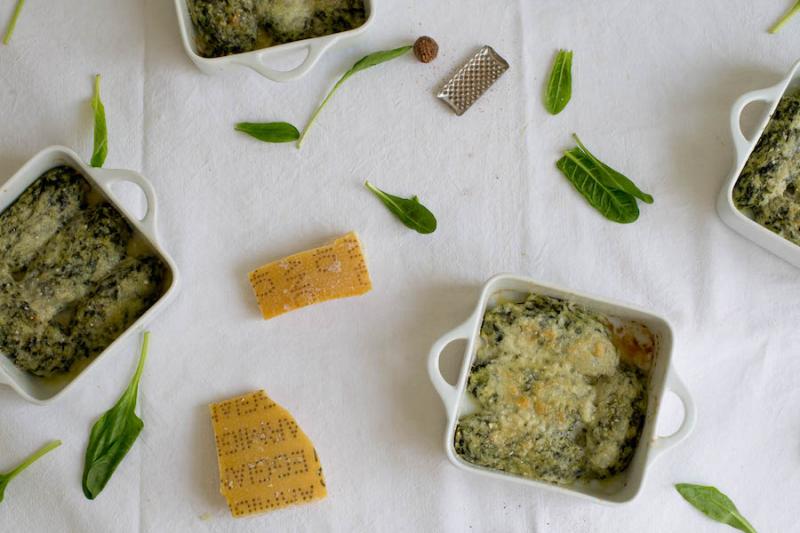 Cooking Time
15-20 minutes (plus about 1 hour preparation time)
The name for these elongated, green-speckled gnocchi from Alessandria comes from the method that is used to shape them, rabatare, which in Piedmontese means 'to roll'. Often made in Piedmont's southeast in spring, these ricotta and chard-based dumplings are rolled in flour until taking the form of sausages, blanched in boiling water and baked au gratin with a generous topping of parmesan and butter.
Like other members of the gnocchi family such as gnocchi di patate and Tuscan  gnudi,  rabatòn should be soft and pillowy.  Key to obtaining this consistency is minimising the amount of breadcrumbs, ideally no more than a fistful or two,  added to the mixture. Basically, the firmer and more thoroughly drained your ricotta is, the less breadcrumbs you'll need to add. All excess liquid should be drained and removed from your cooked chard too. And, when rolling the rabatòn in the flour, do ensure that the flour remains on the outside as a coating, and does not enter the dumplings themselves.
These days, rabatòn are most commonly prepared with cultivated greens such as chard or spinach. The recipe below includes these. You could, however, as was once commonly done, replace these with edible wild or field greens you may have on hand such as dandelions, starflower or nettle. For added flavour, why not add some finely chopped marjoram or sage? And, just in case you're particularly keen on springtime foraging, wild herbs such as calamint, costmary or wild fennel are sometimes added too.
Ingredients (serves 4-6 as a starter)
Ingredients
spinach
300 g cooked, drained and finely chopped (or chard) about 1 kg fresh
ricotta
400 g firm and drained
grated Parmesan cheese
150 g, plus extra for topping the blanched dumplings
finely ground breadcrumbs
as needed
freshly ground black pepper
to taste
semolina flour
for rolling and dusting
butter
for greasing and topping the blanched dumplings
Instructions
In a large mixing bowl, mix the ricotta, cooked greens, parmesan and egg until well combined. Season to taste with salt, pepper and nutmeg and add just enough breadcrumbs to ensure the mixture holds together.  Take a generous spoonful of the mixture and carefully roll it along a clean work surface covered in semolina flour. Form a sausage about 5-6 cm in length and 2-3 cm in diameter. Place on a lightly-dusted tray until all the rabatòn are ready.
Bring a large pot of water or vegetable broth to boil. Reduce heat to a gentle boil.  One by one, lower rabatòn carefully into the water and blanch until they begin to float to the surface. Remove from pot with a slotted spoon, ensuring that they are drained of excess liquid.  Gently lower into a greased baking dish and top with some  grated parmesan and butter. Bake for 10 minutes at 200º C or until crisp and browned on top.  Remove from oven and leave to rest for 5-10 minutes before serving.
Buon appetito!