Ricotta and Rosemary Schiacciata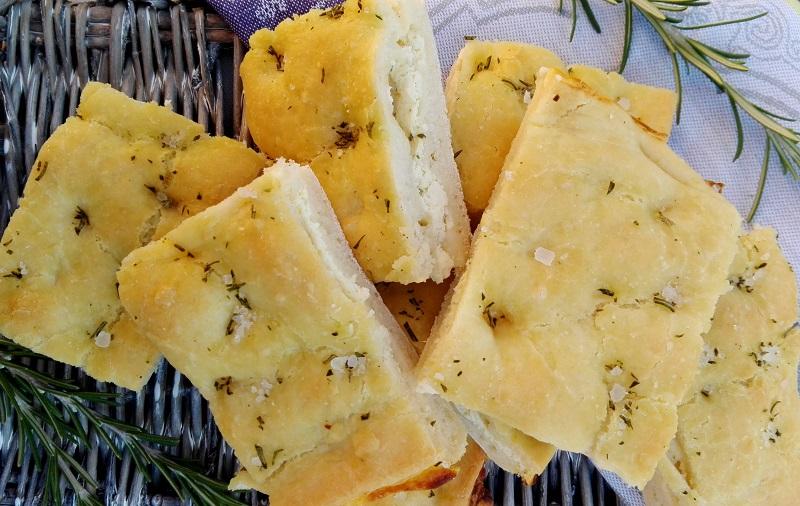 For a small town, Vicchio del Mugello in northeast Tuscany holds a goodly share of historical fascination. Among its notable sons are Giotto and Beato Angelico, artists whose legacies are kept very much alive in the area through museums and cultural events. Vicchio was the epicenter of the devastating 1919 earthquake, one of the strongest in 20th-century Italy and the greatest natural disaster in modern Mugello history. In March of 1944, partisans occupied  Vicchio and killed several Fascist-sympathetic prisoners, an incident followed by a swift reprisal from the RSI (Italian Social Republic): five men were arrested for draft evasion and taken to Florence, where they were condemned and shot on March 22 at the Campo di Marte football stadium. The men, four of whom were Vicchio natives, are remembered as the 'Campo di Marte martyrs.' Perhaps Vicchio's most notorious citizen was Pietro Pacciani, the local farmer convicted and later absolved of the 'Monster of Florence' murders, widely considered one of criminology's most perplexing and disturbing cases.
Happily, Vicchio also enjoys a reputation as a place of uncontested beauty—from its gorgeous verdant landscapes to its many noteworthy religious and civic structures—as well as an understated gastronomic appeal for fans of potato-stuffed tortelli and wild boar meat. According to Mugello food and folklore writer Tebaldo Lorini, a schiacciata made with fresh ricotta was a traditional treat at farmhouses around Vicchio come the holidays.
Ingredients
all purpose flour
350 grams
fresh rosemary
for topping
Instructions
Dissolve the yeast in the water and let sit for about 5 minutes then whisk for a few seconds. Put the flour and two pinches of salt in a stand mixer. Mix on low while slowly drizzling in the water followed by 2 tablespoons circa of olive oil. Switch to the kneading hook and keep working the dough for a few minutes until it is smooth and elastic. Cover and let rise in a warm place for about an hour.
Preheat the oven to 200° C.
Press down the risen dough and turn out onto a floured work surface. Divide into two equal parts. Roll out the first dough ball to roughly fit a medium-sized baking sheet. Transfer to the baking sheet and press the dough into the edges of the pan (it doesn't have to fit perfectly).  Let proof for about 15 minutes while you make the ricotta filling.
Blend the ricotta and egg yolk together with a teaspoon of salt and pinch of ground nutmeg. Carefully spread the mixture over the dough layer already rolled out. Now roll out the second portion of dough and carefully place it on top of the ricotta layer. Press the top layer firmly into the ricotta with your hands, and if needed trim off any excess from the edges. Use your fingertips to make holes all over the surface. Let rest for another 15 minutes circa.
Brush the top of the schiacciata with a mixture of olive oil, coarse salt, and fresh rosemary (chopped).  Bake for about 20 minutes for a softer schiacciata, or 25-30 for a crunchier version.