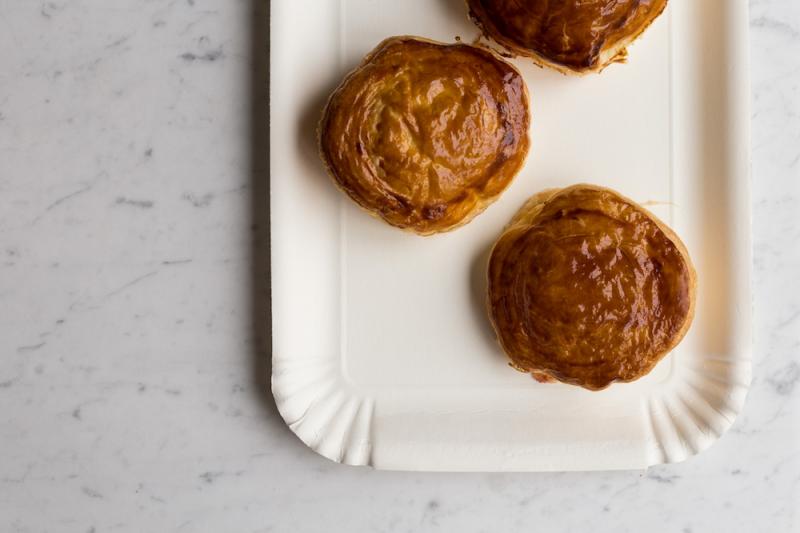 Cooking Time
20-25 minutes
I've only been to the honey-coloured Baroque city of Lecce and the surrounding sunkissed Salentine peninsula once, over seven summers ago. To this day, I haven't  kept my promise to return. In recent weeks, however, I've been trying to master making my own  puff pastry or, as it's called in Italian, pasta sfoglia, from scratch. Several Italian specialties call for using this buttery, laminated dough, such as breakfast cornettior croissants and that sublime dessert made up of layers of flaky pastry and diplomatic cream known as millefoglie. Yet, I put my initial intentions to make these and other sweet delights aside when I suddenly remembered my breakfast of choice while standing at the bar of some of the local cafés we started our carefree days of swimming and sightseeing in all those years ago: a caffè in ghiaccio- the distinctly almondy Leccese answer to iced coffee - accompanied by a rich, savoury pastry known as the rustico leccese.
Made with two discs of buttery puff and stuffed with béchamel, mozzarella and just a touch of tomato, the rustico is generally eaten in Lecce and the Salento for breakfast or as an afternoon or late night snack. The best analogy I've come across for describing this addictively tasty pastry is a large vol-au-vent with a lid. There are limited written sources available regarding the history of this beloved southern Pugliese snack. Yet, unlike many traditional local dishes, which are often of peasant origin, the rustico was probably invented in the kitchens of the Leccese aristocracy in the late eighteenth to early nineteenth century. Telltale signs include the puff pastry and béchamelsauce, French culinary inventions made with butter, an ingredient only the very wealthy had access to at the time.
I'm still working on getting my own puff pastry right, so the following recipe calls for 2 sheets of store-bought sfoglia. I'd still encourage you to get your hands on the best quality (ideally butter instead of margarine-based) puff pastry you can find when making theserustici. Also, after several rounds of recipe-testing, I've found that the rustici come out best (i.e. with minimal side leaks!) when the béchamelis prepared a day in advance. Finally, given otherwise delicious fresh mozzarella's annoying tendency to release liquid, be sure to drain it as thoroughly as you can before enrichening your bechamel with it. The same goes for the chopped canned tomatoes!
Ingredients (makes 4 rustici with a 12 cm diameter)
Ingredients
all purpose flour
20 g, plus extra for dusting
mozzarella
100 g, thoroughly drained and chopped into small pieces
nutmeg
freshly grated, to taste
Canned Tomatoes
3 canned peeled tomatoes
black pepper
freshly ground
puff pastry
two rolls of store-bought puff pastry, chilled
egg yolks
1, lightly beaten, for brushing
Instructions
The night before you plan to make your rustici, prepare the béchamel sauce by melting the butter with the flour in a small saucepan over low heat, stirring the whole time until they come together. Pour the milk in a slow, steady stream, stirring continuously, until incorporated. Keep stirring for a few minutes until the mixture reduces and thickens (about 8 to 10 minutes). Remove from the heat and add the drained and chopped mozzarella. Stir until melted. Season with salt and nutmeg. Prepare an ice bath and cool the béchamel quickly by transferring to a bowl set over the cold water. Cover with plastic wrap, ensuring thatthe plastic is touching the surface of the béchamel sauce, so it doesn't develop a skin. Store in the refrigerator until ready to make your rustici the next day.
Place the chopped tomatoes in a colander and press down hard to remove as much excess liquid as possible. Transfer to a bowl, add some olive oil, salt and pepper, to taste, and mix well. Drain again if necessary and set aside.
Place the ready-rolled sheets of puff pastry on a lightly floured work surface. Using a 12 cm and a 10 cm cookie cutter, cut out 4 circles of each size. The smaller 10 cfotom diameter circle will form the base of the rustici and the larger circle will form the lid.
Place the 4 smaller circles on a baking tray lined with baking paper. Dip a pastry brush (or your finger) in the egg yolk and glaze the edges of each circle. Place 2 tablespoons of the chilled béchamel at the centre of each smaller circle, ensuring that you leave a 1 cm border. Add 2 teaspoons of the tomato mixture on top of the béchamel. Carefully place the larger pastry circles on top and press the circles together with your fingers to get a good seal between the two sheets. Brush the top of each rusticowith the egg yolk. Refrigerate for at least 45 minutes to 1 hour to firm up the pastry. Bake in an oven preheated to 200°C for 20 to 25 minutes or until the rustici have puffed up and are golden brown. Cool for 5–10 minutes before eating.