Taralli - Irresistible Italian Crackers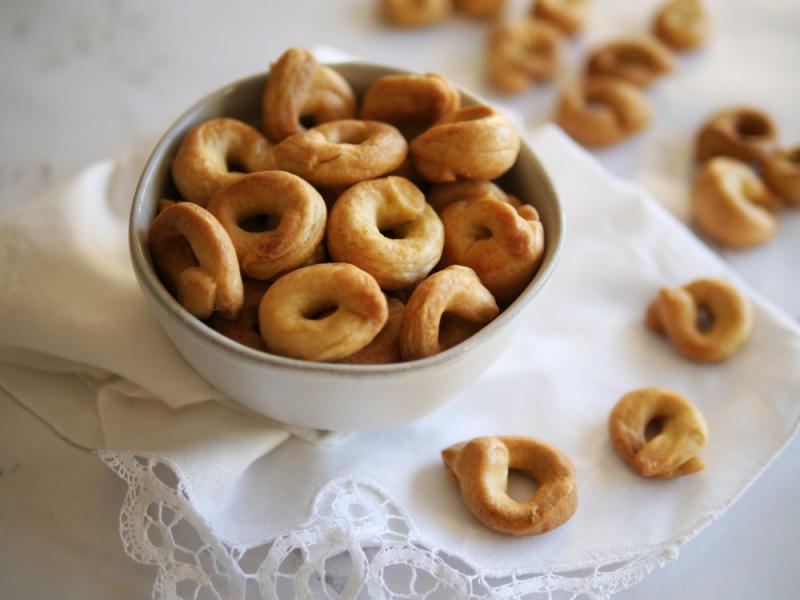 Cooking Time
1 hour and 15 minutes
My Italian husband took a seat at the dinner table just as I set a hot plate of homemade pasta with a smoked salmon cream sauce in front of him. The steam rose from the dish, making swirls in the air then disappeared through the green leaves of the freshly cut tulips in the middle of the table. I sat down, poured myself a glass of cold sparkling water, took a sip then picked up my fork ready to dive into the mountain of noodles.

"There's something missing," said my husband. 

I peered down at the table: silverware, check. Water and wine, check. Napkins, check. Hot food, double check.Then I smiled. Of course.I knew what he was after as he rose from the table, walked across the kitchen and opened the cupboard. He reached inside and pulled out the bag of freshly baked taralli. 

"Something crunchy," he said as he sat back down and popped a southern Italian cracker into his mouth. 

Indeed. 

Go to an Italian's house or restaurant and pane (bread) and grissini (breadsticks) are on the table as you would expect salt and pepper to be. If they're missing, someone will most likely ask where they are. My husband will for sure. 

And, rightly so, especially when it comes to taralli. These ring shaped crackers from Puglia add that perfect crunch to any meal. Made with humble ingredients—flour, salt, extra virgin olive oil and white wine—it could be imagined that they would be bland and boring. Quite the contrary. The flavorful extra virgin olive olive and hint of salt keeps you reaching for more like a bottomless bowl of buttery popcorn. A true addiction at first bite. 
In addition to the classic recipe, you'll find taralli made with fennel seeds, black pepper and chili pepper, just to name a few of the most common seasonings. In certain parts of southern Italy, you'll also find a sweet version, taralli dolci, glazed with sugar and aromatized with lemon zest. Whatever version you try; however, I am quite confident that you won't be able to have just one of these wreath shaped delicacies. 
Makes: 60 taralli 
Ingredients
extra virgin olive oil
2/3 cups
Instructions
Preheat the oven to 375°F.

Add all of the ingredients to the bowl of a stand mixer equipped with the dough hook.  Mix on low speed for 10 minutes until well combined and a soft dough forms.

Cut off a small portions of the dough, about the size of a cherry, and roll them into strand about 4 inches long. Connect the two ends in a wreath type shape, overlapping the ends just slightly. Repeat  with the remaining dough; you will make around 60. 

Bring a large pot of water to boil then salt until it tastes like the sea. Gradually add the taralli to the water in small batches. As soon as they float to the top use a skimmer spoon to remove
them from the water and set them on a plate covered with a clean dishcloth. 

Transfer the taralli to cookie sheets lined with parchment paper. Cook for 40 minutes until crunchy and slightly golden brown. Conserve in a food safe bag. Buon appetito!