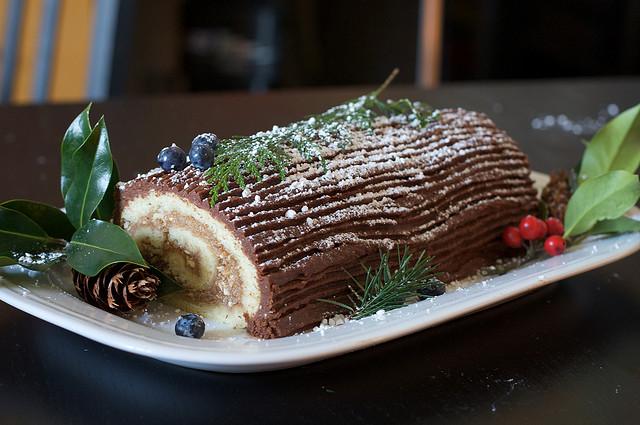 This year we propose a classic Tronchetto di Natale for your Christmas Italian dessert. You can follow the following recipe or create your own version with different fillings and decorations.
Ingredients
flour
For the sponge: 100 g. For the custard filling: 65 g
Instructions
For the sponge:
Using a whisk, beat eggs with sugar and vanilla in a bowl until the mixture is fluffy and soft. Sift in the flour and potato starch, and incorporate in the mixture with the utmost care not to get the air out.
Place the mixture on a sheet of baking paper and, with the aid of a spatula, spread the it on the whole sheet. Bake for 20 minutes in a preheat oven at 190 ° C. Let it cool down before using it to make the "tronchetto".
For the filling:
Pour the milk in a saucepan and dip in a strainer containing the lemon rind and vanilla pods (previously halved) so that they flavour the milk but can be easily removed, and bring to a boil. Remove from the heat. Prepare a batter with the egg yolks, sugar, cocoa and flour.
Remove the strainer with the rind and vanilla pod. Pour the batter into the hot milk and stir vigorously with a spoon. Put the pot back on the fire. Bring to a boil and cook for 10 minutes until you get a dense chocolate creamy consistency.
Remove from the heat and pour the "crema" into a steel container or in a baking dish and let it cool down.
Assembling the Tronchetto:
Wet the sponge with alkermes liqueur. Spread half of the crema on the sponge and roll up carefully, making sure that the sponge does not break. Cut the "Christmas Tronchetto" and assemble it creating the traditional shape of a "log" on a tray.
With the help of a pastry bag decorate the "log" with the remaining cream so that it looks like wood bark.
Decorate with real mistletoe leaves or use green marzipan to create some yourselves.