What's in Season Now: Asparagus and New Potato Salad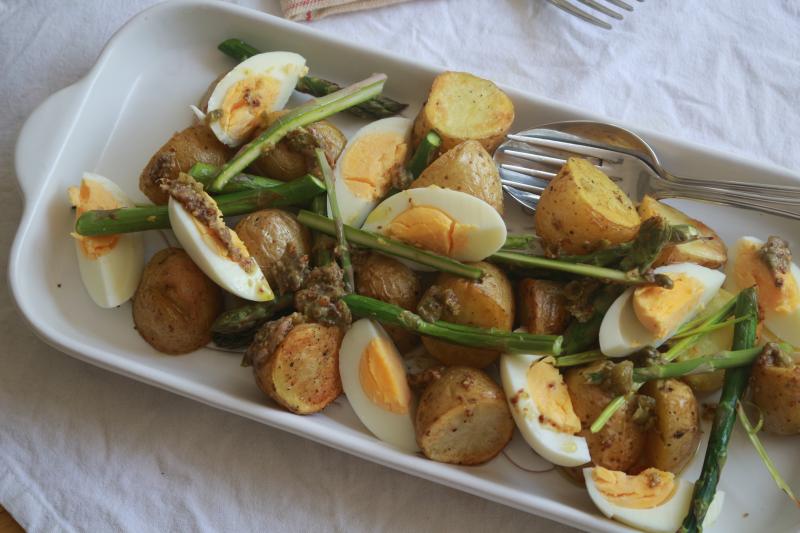 After months of bare ground at the allotment there is nothing more exciting than seeing little green heads start peering through muddy soil that is gradually warming up in the Spring sun. We have inherited a very productive patch from our predecessor who left them at exactly the right time to be picked; asparagus cannot be touched before two years from having been sown – and that must be one of the reasons why they are so expensive. 
I have always rejoiced at the sight of these delicate spears tied in bunches and tucked in wicker baskets or wooden boxes at the market. The money was always worth it so that May can rightly receive a golden place in the year chart. Thanks to our patch I don't have to worry anymore about damaging my little friends while cycling back home or not having bought enough because of the cost. Every day I can confidently wander into our allotment and cut a good handful of asparagus to enjoy for lunch or as a starter for supper. The season is short, only six weeks, and thus I must seize the moment and make the most of these delicate creatures. 
Asparagus, like broad beans, are ancient plants funnily enough belonging to the lily family. Known already in Roman times who found several medicinal benefits, they belong to the super food group possessing all of the vitamins– A, B, C, D, E and K – as well as folate and minerals. 
The quicker they are picked (or cut) and eaten the sweeter they taste. The first asparagus usually receive so much reverence that we can only conceive of cooking them in the simplest way; quickly steamed in lightly salted water and served with melted butter and grated Parmesan. A few weeks and several spears later though my attention wanders towards variations on the theme and I start adding a few more ingredients, still in full season. 
recipe for two people
Ingredients
Asparagus
A bunch of asparagus, woody ends removed
anchovies preserved in extra virgin olive oil
2
extra virgin olive oil
3 tbsp
mustard
2 tsp wholegrain mustard
Instructions
Toss the potatoes in oil and season thoroughly. Bake in a pre-heated oven at 200C for 20-25 minutes until the skin starts slightly to char and the potatoes have caramelized a little. 
In the meantime cook the eggs in water and boil them for 7-8 minutes. Run them under cold water, peel them and cut them into quarters. 
Prepare the dressing by mixing the mustard, capers, and anchovies. 
When the potatoes are almost ready, add the asparagus and spring onions and leave everything in the oven to finish cooking for another 5 minutes. Add more oil if you think the asparagus look a bit dry. 
Take out of the oven the potatoes and asparagus mix. Move them onto a serving plate and add the cut eggs. Sprinkle the chopped chive and dressing. 
Serve with a nice glass of white wine ideally in the garden enjoying the Spring sun.