What's in Season now: Broad Beans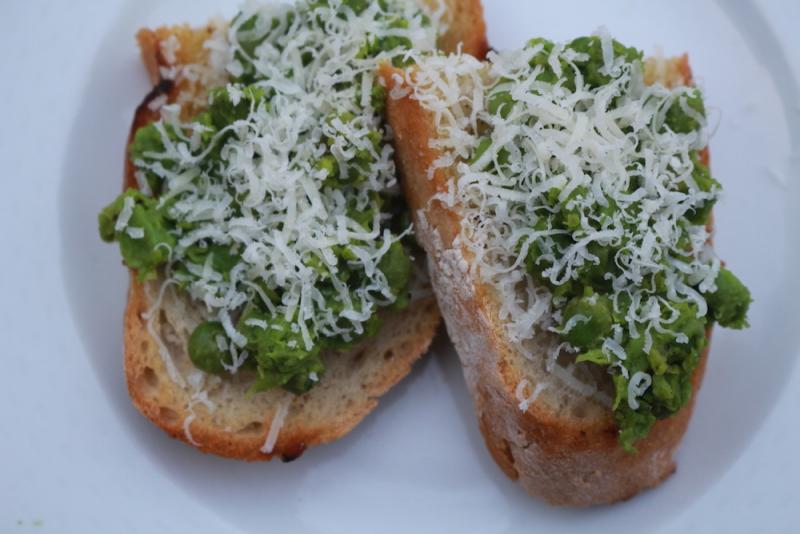 When I was a child my parents would always start their meal with a simple plate of broad beans and fresh pecorino. And that was for me the beginning of Spring in Tuscany. For quite some time since I left Italy I did not come across these little bitter green fellows until two years ago when we took up the cultivation of a small piece of land, allotment, here in Cambridge, and decided to grow them. 
Broad beans, also known as fava beans, and in Italian as fave or baccelli,are one of the oldest domesticated food legumes. They were found in the Middle East already in the 4th centuryand arestill consumed there daily, for example in Egypt in soups and as foul (a dip made of mashed broad beans and mixed with olive oil, lemon juice, and garlic).
Providing you miss the worst of winter and cover the ground in case of frost, broad beans are a truly rewarding crop even to the least experienced gardener. It is a joy to see their delicate black and white flowers festooning rows of plants held up with sticks and strings appearing after days of cold weather. 
Not only do they cheer up the soul after gloomy cold days, broad beans are also extremely healthy being high in protein and fibre, a superb source of folate and a good source of other B vitamins. It is surprising therefore that in Greek times they were believed to contain the soul of the dead while Romans would use them to pacify restless spirits haunting households. On the other hand in England it was said that the scent of their flowers was highly aphrodisiac! 
Legends aside, anyone can easily grow broad beans in a limited amount of space and they can be used in a variety of ways, from being eaten straight from their cases with just a touch of salt, cooked in a risotto or tart, or crashed raw and used to top a slice of toasted bread like in the following recipe. 
Broad Beans Bruschetta, For 2 people (as a starter)
Ingredients
bread
2 slices of sourdough bread cut into half
extra virgin olive oil
1 tbsp of good olive oil
fresh lemon juice
A squeeze of lemon juice
Broad beans
100g fresh broad beans
dried chilli
A pinch of dried chilli
Instructions
In a mortar lightly crush the broad beans freshly taken out of their pods. Add a pinch of salt and some chilli flakes. Add the olive oil and mix with the lemon juice. Pile the mix on top of the bread that has been toasted for a few minutes and coated with a touch of olive oil. Grate the Pecorino and serve. Warm or cold are equally delightful.