Zuppa di Farro: Tuscan Farro Soup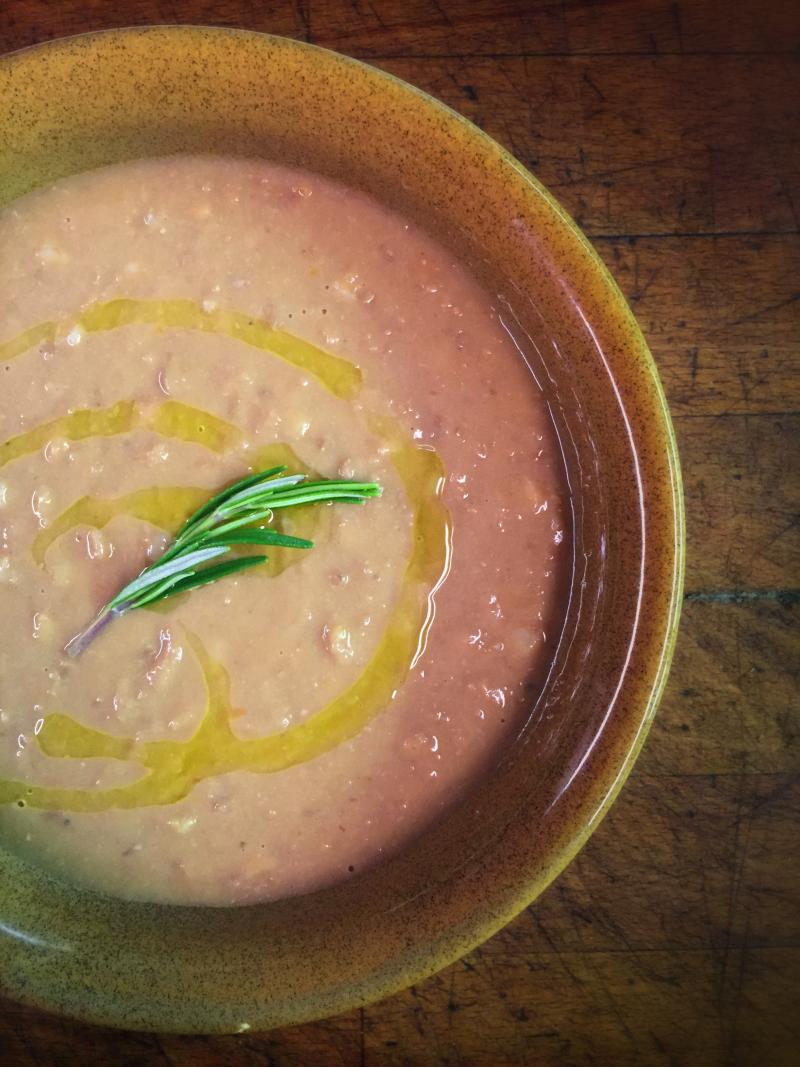 Cooking Time
1 hour, plus overnight resting
A wonderfully comforting soup! This thick soup is made with dried borlotti beans and farro (spelt), which has a nutty flavor and is satisfyingly chewy. I learned this classic Tuscan recipe from Chef Aurelio Barattini, who serves it at his restaurant Locanda Antica de Sesto in Lucca. Chef Barattini notes, "The contrast between the velvety mashed beans and the chewiness of the farro has a wonderful mouth-feel and really showcases the intense natural creaminess of the beans, but without needing any dairy at all."
Farro, an ancient whole grain that has been around for millennia, originated in Mesopotamia and has been popular in Italy since ancient Roman times, eaten in porridge, soups, stews, and even desserts. Farro is also a great side dish; unlike rice, it retains its distinctive chewy bite and doesn't become gummy even after reheating.  If you can't find farro, you can substitute another whole grain like barley or brown rice.
Ingredients Sections
14 ounces dried borlotti or other beans
4 to 6 sage leaves
6 cloves garlic, divided
Salt To taste
Extra virgin olive oil, 3 tablespoons, plus more to finish
1 small onion, finely minced
1 medium carrot, finely minced
1 celery stalk, finely minced
Fresh rosemary, 2 long stems
Marjoram, 2 to 3 stems
2 tablespoons tomato concentrate
7 ounces farro or other whole grain, rinsed
Black pepper, to taste
Instructions
Soak the beans in water overnight in a soup pot. Drain water, cover the beans with clean water and add sage leaves and two of the cloves of garlic. Bring to a boil and then reduce heat and simmer. When almost tender, season to taste with salt and continue simmering until tender. Add more water as needed. 
Meanwhile, put the olive oil in a pan and sauté the onion, carrot, celery, remaining 4 cloves of garlic, rosemary, and marjoram until light golden.  Add the concentrate and the beans along with a cup of the bean's cooking liquid.  Simmer until thick, and then combine with the beans.
Pass the bean mixture through a food mill until smooth, then return to the soup pot and bring to a boil. Add the farro and cook on low heat for about 40 minutes, until the farro is tender. Serve in a bowl topped with a drizzle of olive oil and freshly ground black pepper.
Serves 8.