Danubio Napoletano | Neapolitan Savoury Pull-apart Brioche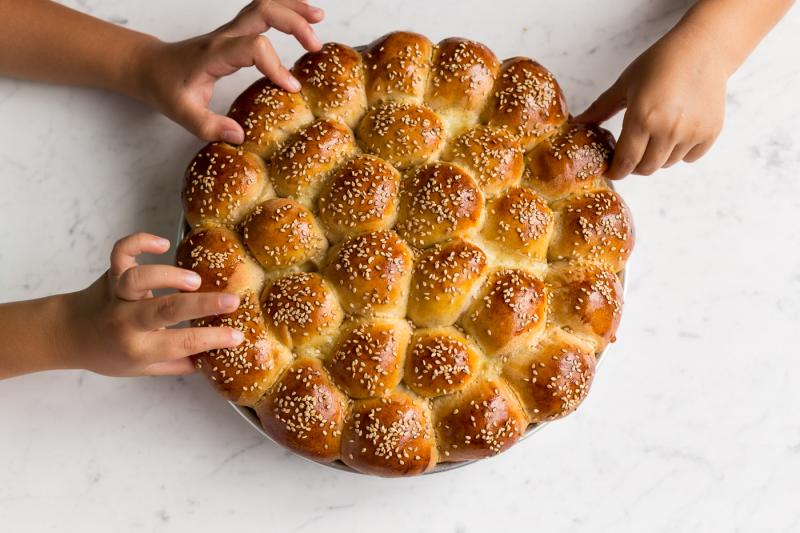 Cooking Time
30-35 minutes
It's the second week of September. We're back at my daughter Camilla's pre-school for her second day after yet another long, hot Italian summer. In typically Italian fashion though, the stifling heat hasn't died down yet. I contemplate whether to insist on her wearing her long-sleeved, baby blue and white checkered grembiuleor smock on top of her t-shirt and leggings. Her classmates don't all appear to be wearing one. To my surprise, however, she asks to put it on. She likes the hamburger patch stitched above its pocket, she tells me while I button it on for her. She then sits down at the bench opposite her locker  and takes off her sneakers. I assist her with putting on the pantofole or indoor slippers she's required to wear inside and we head towards her classroom. I'm expecting the worst as we make our way. Last year, our morning drop offs were often tearful. The day before, she was very reluctant to say goodbye to me too.
Ginevra, Camilla's sweet, doll-like classmate, suddenly appears at the doorway with the class teacher to welcome her. She has a slinky in hand and Camilla immediately makes a beeline for her friend to inspect the mysterious-looking toy more closely. Then, she reaches out to give me a kiss on the cheek, says goodbye and gestures for me to go. I take this as my cue to leave and secretly smile to myself, relieved that there won't be any more school mornings like the previous year's. I also look forward to the school pick up and finding out about my little girl's day over a merenda or snack back home.
One of those afternoon snacks we have been enjoying together lately has been a type of pull-apart brioche typical of the storied, port city of Naples. Made up of tiny, leavened buns filled with ham and provola cheese, the Danubio napoletano is often served as a part of a pre-dinner aperitivo or as a snack for children. For me, the characteristic that makes Danubio especially  irresistible is the sweet – savoury contrast between the buttery brioche dough and its filling. For those of you looking for a snack that's entirely sweet though, don't fret! The Danubio also comes in an entirely sweet version with fillings like jam or pastry cream, so do feel free to replace the traditional ham and provola in the recipe below. And, of course, if you're vegetarian or if ham and provolajust aren't your thing, you can always make another savoury filling. Some ideas: ricotta and spinach; mozzarella and tomato; mushrooms.
Danubio is the Italian word for the Danube - Europe's second longest river - that runs through Austria, Slovakia, Hungary, Croatia, Serbia, Romania, Bulgaria, Moldova and Ukraine. Given that river's considerable distance from Naples, several legends have emerged regarding the name and origin of this stuffed, baked delight. One story has it that it was the 1920s invention of Mario Scaturchio, a local pastry chef of Calabrese origin who named it in honour of his Austrian aunt. Others believe it is based on Buchteln,an old Bohemian sweet made in a similar way (a set of leavened buns placed together in a pan and stuffed with plum jam). In 1768, King Ferdinand IV of Naples married an Austrian princess, Maria Carolina, who was said to have brought several Viennese chefs, and along with them, the Buchteln, with her to the Bourbon court.
Brioche dough is quite sticky, so I recommend using a food processor fitted with a dough hook for  making these delightful, stuffed buns.  It is possible to make it by hand, but do arm youself with a plastic curved-edged dough scraper to make absorbing all the butter called for easier while kneading. And, given that the dough is relatively wet, you may find rolling and shaping the dough easier after an overnight, cold leavening in the fridge. Also, I've opted to make twenty-six tinier, aperitivo or snack-sized buns, but if you'd prefer a larger-sized morsel, don't hesitate to divide your leavened dough by a smaller number like 8 or 16 either.
Ingredients (makes about 26 buns for a 30cm diameter baking tray)
Ingredients
all purpose flour
500g flour (a mix of all-purpose and strong bread flour)
butter
90g, chilled and cubed
ham
100g, broken up into small pieces
provola cheese
100g, cubed
egg yolks
an egg yolk, lightly beaten
Instructions
Pour tepid milk in a bowl and add yeast and sugar. Stir and leave to sit until the yeast dissolves and foam rises to the surface (about 10 minutes). Add to the bowl of your food processor fitted with a dough hook, along with the flour, the lightly beaten eggs, salt and knead. Add cubed butter at intervals throughout the kneading process so each piece is well absorbed before adding the next one. Knead until your dough is smooth and elastic (this may take about 10-15 minutes). It may be slightly sticky but avoid the urge to add more flour!
Transfer dough to a large mixing bowl and cover with plastic wrap. Leave to rise in a enclosed warm space in your kitchen until doubled in size (about 2 hours). Alternately, you could also place the bowl in your fridge and leave it overnight (8-9 hours) for a slower rise.
Gently deflate and remove the leavened dough from the bowl. Weigh and divide the dough into 26 equally-sized balls. Flatten the balls with a rolling pin to form a disc. Place a fistful of cubed ham and provola at their centres, then bring their ends together to seal the filling inside. Transfer the stuffed balls to a greased and dusted baking dish with a 30cm diameter, seam side down. Brush the tops of the buns with some egg yolk and milk. Sprinkle some poppy or sesame seeds on top too if you wish. Leave to prove for half an hour.
Bake in an oven preheated to 180 ° C for 30-35 minutes or until golden brown on top. Cool in the baking tray for 10 minutes, then transfer to a wire rack to finsh cooling. Eat while still warm or at room temperature. Best consumed within two days of baking.