Fried Artichokes (Carciofi Fritti)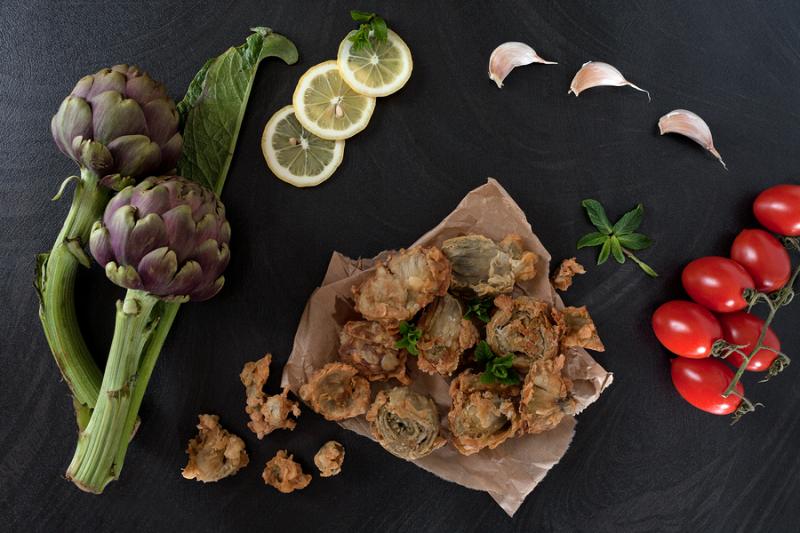 Artichokes are a favored Spring vegetable in Italy and can be found in many varieties throughout markets in Italy. I've gotten to know them best in Tuscany and Rome. Rome is hands-down the Queen of gourmet artichoke recipes and there are many ways an artichoke is made Roman. However, you will find simple fried artichokes on menus throughout Tuscany. Artichokes are a flowering thistle and to me a very important botanical in Italian cuisine. Their leaves are used to flavor Cynar, a popular bitter liqueur in Italian cocktails and a tasty alternative to Campari or Aperol for a Spritz in Venice. Artichoke extract is said to have a detoxifying effect on the liver and known for aphrodisaic effects since times of antiquity. The ancient Romans and Greeks recommended artichokes for their medicinal value and they are known today for an array of health benefits such as lowering "bad" cholesterol, being rich in antioxidants, folic acid and fiber. While many of these health benefits might be negated by frying them, it is still worth knowing these thistles mean serious business. Traditionally, you will find fried foods in old Tuscan cuisine as part of the poor cuisine. Frying provided an affordable way to provide the most bang for the caloric buck. Fried foods such as artichokes, polenta and zucchini flowers along with offal things like tripe were the cornerstones of original Tuscan street food. 
Ingredients
all purpose flour
for coating
oil for frying
ideally sunflower or safflower oil
vinegar
2 tbsp (or lemon juice)
Instructions
Clean the artichokes by peeling away the most hard leaves until you reach a softer center. Cut off the stems of the artichokes while leaving half an inch.
Divide each artichoke in half then in quarters. Prepare a bowl of water treated with lemon juice or vinegar. Once sliced into wedges, let them sit in the acidic water bath for about 20 minutes so that they don't brown.
Drain and pat down dry the artichoke wedges then coat them in flour. Beat your 2 eggs until uniform and lightly salt.  Just moments before frying the floured artichokes, coat them in the egg mix.
In a frying pan, heat an abundant amount of oil enough to cover your artichokes but not to the point where it boils. Add in artichoke wedges one by one careful not to splatter yourself. When the artichokes have turned slightly golden and seemingly crunchy, remove from oil onto a oil absorbing paper sheet similar to construction paper. Salt lightly and serve while warm with slices of fresh lemon to squeeze on top.