Marche's Unique Meat Sauce: Sugo al Ragù Piceno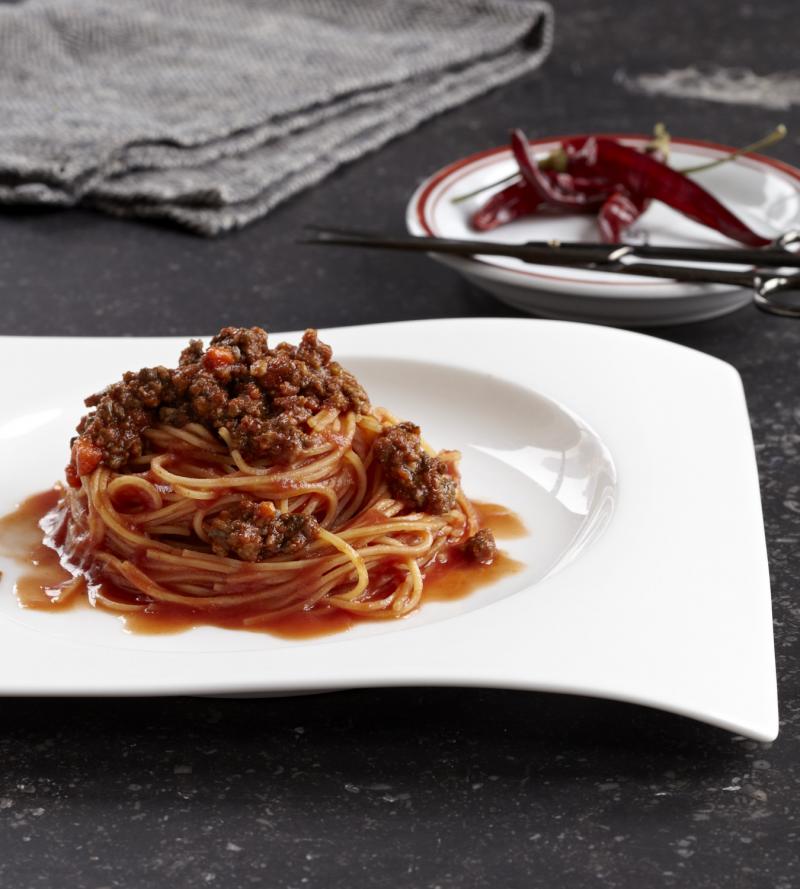 Photo courtesy of Francine Segan
A very unique meat sauce from the Piceno province in the Marche region.  It's distinctive because the dish is actually a combination of two different sauces, made of three types of meats, served with pasta. One sauce is made with an assortment of pork and beef bones simmered in tomatoes, then strained, and used to dress the pasta. You'll especially like their technique of sticking whole cloves into an onion half to infuse the sauce with a hint of aromatic spice. The second sauce is a dense mix of minced beef, pork and chicken slow-cooked in wine. 
The pasta is first tossed with the bone-infused tomato sauce, then once it's plated and topped with a rich minced meats sauce. The result is multiple levels of flavor.  Extraordinary from the first bite.
This dish is usually made with maccheroni di Campofiglione, thin maccheroncini, made with a considerable number of eggs, which have been a specialty of the town of Campofilone in the Marche region since at least the 1600s. This special egg pasta really absorbs the first sauce, making a rich base for the finely minced meats to come.
Interestingly, because they're so egg-rich, this type of maccheroncini can be cut only a millimeter (1/32 inch) thick.  When cooked, this type of pasta doubles in volume and is wonderful at absorbing any type of sauce.  The medieval town of Campofilone even has a maccheroncini festival traditionally held on the first weekend of August, which features lively demos and lots of tastings.
If you like, do as they do in Italy, and serve the pasta accompanied by a small plate of whole dried chili pepper and tiny scissors so everyone can customize their own pinch of heat.
Serves 8 to 10
Ingredients
For first sauce
Onion
Olive oil, ¼ cup
Cloves, 6 whole
Celery stalks 2, chopped
Carrot 1, chopped
Mix of beef and pork bones, 1 pound
Bay leaf, 1
Freshly ground nutmeg, to taste
Tomato puree, 2 28-ounce cans
For second sauce
Olive oil, 5 tablespoons
Garlic, 2 cloves, very finely minced
Celery, 1 stalk, very finely minced
Fresh rosemary, 1 sprig
Fresh rosemary, 1 sprig
Chicken livers & gizzards, ¾ pound, finely minced
Lean ground pork, 3/4 pound
Lean ground beef, ¾ pound
White wine, 1 cup
Salt and pepper, to taste
For serving
Maccheroni di Campofiglioni or other thin egg pasta, 2 pounds
Parmesan cheese, to taste, grated
Dried whole chili peppers, optional
Instructions
For first sauce: 
Peel the onion, cut it into quarters. Stick cloves into the onion. Saute the onion quarters in oil with the celery, carrot and bones until the vegetables are very soft.  Add the bay leaf, nutmeg to taste, and tomatoes and bring to a boil. Reduce heat and simmer, covered, for at least 3 hours. Strain the sauce, discarding the bones and vegetables.
For second sauce: 
Meantime, in a medium saucepan, heat the olive oil with the garlic, celery, carrots and rosemary until soft, about 5 minutes. Add the chicken liver and gizzards and saute until they pink, then add the ground pork and beef, and stir until well combined, breaking up any large pieces with a wooden spoon. Add the wine and simmer for about 30 minutes. Add a few tablespoons of the strained first sauce, and simmer for another 5 minutes.  Season to taste with salt and pepper.
To serve: 
Cook the pasta until al dente, drain, and toss in the first sauce, until the sauce is well absorbed. Using a large fork, twirl portions onto the serving plates, if you like. Top with a ladleful or two of the second sauce and sprinkle with grated cheese.  Accompany with a plate of dried chili peppers and small scissors, if they like.