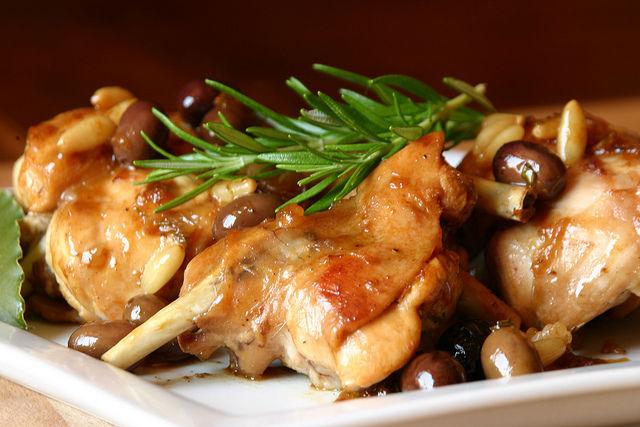 Ingredients
rabbit
1 (weighing approximately 1.5 kg)
carrots
2 tbsp, finely chopped
onions
2 tbsp, finely chopped
celery
2 tbsp, finely chopped
pine nuts
1 tbsp, crushed
hazelnuts
1 tbsp, crushed
anchovies
1 salted, rinsed and chopped
extra virgin olive oil
50 ml
thyme
a handful fresh, chopped
Instructions
Chop rabbit into pieces. Heat the olive oil in a large pan and throw in the chopped carrot, onion and celery and cook until the onion is soft and transparent.
Add the pieces of rabbit and cook over a medium heat until the rabbit is browned on all sides. Throw in the crushed nuts, garlic, bay leaf, anchovy, capers and olives and toss ingredients together. Season with salt and pepper.
Turn up heat and pour in the white wine and stir until it most of wine has evaporated. Add just enough stock to cover the rabbit, then cook over a low heat until the sauce has thickened and the rabbit is cooked (40-50 minutes).
Stir in the chopped thyme and serve immediately with some creamy polenta.