Donzelline Aromatiche: Fried Sage "Damsels"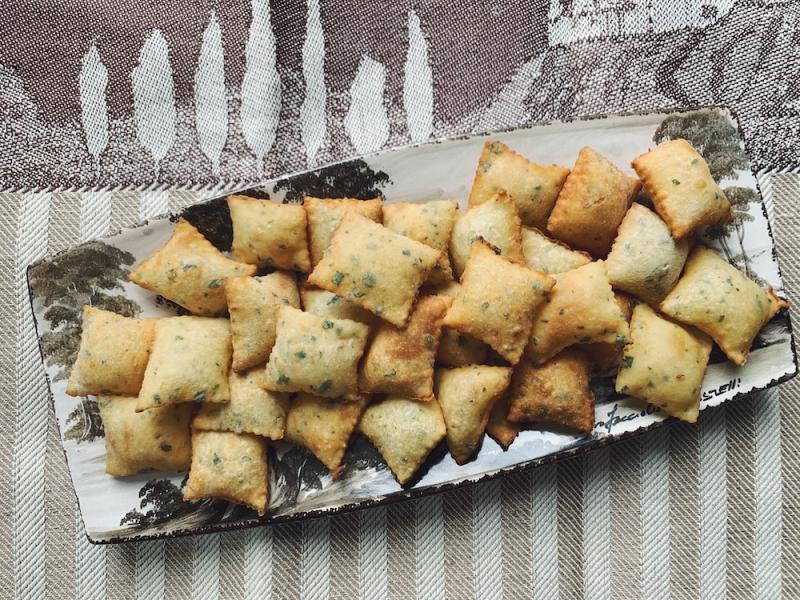 It is always a revelation to open Pellegrino Artusi's seminal cookbook "La Scienza in Cucina e L'Arte di Mangiar Bene" (Science in the Kitchen and the Art of Eating Well). The book, published in 1891, just two decades after the unification of Italy, is the first compilation of regional recipes from around the country. Peppered with Artusi's always insightful, sometimes caustic, observations, the book is filled with recipes from simple broth to delicate rose jelly, and everything in between. It's been a cooking bible for many generations of Italians, and it remains a vibrant window into the way the newly unified—but still emphatically diverse—country was cooking and eating more than a century ago. And yet, even though the book La Scienza will mark its 130th anniversary next year, most of the recipes are astonishingly contemporary, completely at home in a 21st century kitchen.
These bite-sized sage-flecked crackers—their name translates to "little damsels"—are a good example. They make a perfect addition to those elaborate cheese and salumi boards that have become so popular, but they are also good on their own, a little stuzzico to accompany a glass of wine. There's a bit of magic in these crackers; the flat little squares of dough inflate immediately upon hitting the hot oil and remain puffed up even after they have cooled. Artusi recommends serving these with prosciutto and figs. I heartily agree. Be warned, though; una tira l'altra—once you've tried one it's hard to stop.
Makes about 5 dozen
 
Ingredients Sections
1 1/4 cups (150g) unbleached all-purpose flour
2 tablespoons minced sage leaves
1 teaspoon salt
2 tablespoons extra-virgin olive oil
2 tablespoons white wine
1 egg, lightly beaten
Vegetable oil for frying
Instructions
Measure the flour, the sage leaves and salt into the bowl of a stand mixer fitted with the paddle attachment. Mix briefly on low to combine. Add the olive oil, wine and egg and mix on medium until the dough comes together. Turn the dough out onto a lightly floured surface and knead for a couple of minutes, until smooth. The dough should be soft but not sticky; add a little more flour if necessary. Form the dough into a ball; cover with a bowl or plastic wrap and let it rest for 10 minutes.
Roll the dough out on a lightly floured surface into a thin circle about 15 inches (38cm) in diameter. With a fluted pastry wheel, cut the dough into diamonds or squares about 1 1/2 inches (4cm) in diameter. Alternatively, use a small round cookie cutter. You should end up with about 60 pieces, depending on how big or small you cut them.
Pour oil to a depth of 2 inches (5cm) in a heavy-bottomed saucepan and heat on medium-high until it begins to shimmer (375°F / 190°C). Drop in the donzelline, a few at a time. They will puff up and begin to brown immediately. Use a fork or skimmer to turn them so they brown on both sides. Transfer them to a paper towel-lined plate or rack to cool. Serve the donzelline warm or at room temperature. Store in an airtight container for up to 3 days.
Variation: For baked donzelline, preheat the oven to 400°F / 200°C. Follow the instructions for making and cutting the dough. Arrange the cut-outs on a parchment-lined baking sheet and bake for 10 minutes, until crisp and browned. The baked donzelline are more like traditional crackers; they will not puff up completely, but you will get a few bubbles and puffs here and there. Let cool to room temperature before serving. Store in an airtight container for up to 3 days.