Zolle Sott'Olio | Pickled Garlic Scapes in Oil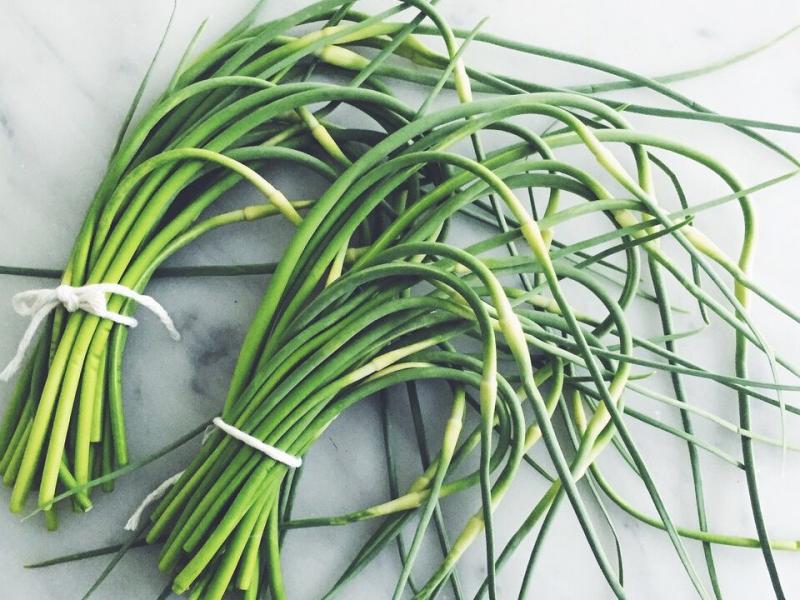 Cooking Time
5 minutes, plus 1 hour drying time
Zolle sott'olio ~ pickled garlic scapes preserved in oil ~ are a specialty of Sulmona, a picturesque medieval city ringed by mountains in Abruzzo. The city is mostly famous for confetti, those candy-coated almond confections you see at Italian weddings, and for being the birthplace of the poet Ovid.
But within Abruzzo, or at least the province of L'Aquila, Sulmona is also famous for its aglio rosso, or red garlic. The bulbs, with their gorgeous, fat, purple-streaked cloves, grow in the surrounding Peligna Valley. The garlic is prized for its intense fragrance and its keeping ability. It is a staple at local farmers' markets, where you will find it hanging or stacked in braided lengths.
The scapes ~ the long, swirly green shoots and buds that grow above ground ~ are harvested in spring. This allows the garlic plant to focus its energy on the bulb. And it also provides garlic lovers with another edible treat. Garlic scapes have an appealing, mild flavor, and there are plenty of ways to enjoy them. They can be pureed or pounded into pesto, or sautéed and added to frittatas. In Sulmona, zolle, as they are called in the local dialect, are mostly reserved for these pickles. First, they are plunged briefly into boiling vinegar brine; then they are packed into jars and covered with good olive oil.
Zolle sott'olio are delicious served on crostini or as part of a cheese platter, especially paired with Abruzzo's tangy pecorino cheeses. They also make a fine accompaniment to roast chicken, grilled steak, or chops.
Makes 2 pints
 
Ingredients Sections
1 pound (454g) garlic scapes
2 cups (470g) white wine vinegar
1 teaspoon fine sea salt
Extra-virgin olive oil
Equipment: 2 sterilized pint-size (1/2 L) jars
Instructions
1. Cut the scapes into 2-inch (5 cm) lengths, removing any tough parts at the bottom and the thinnest part at the top above the small bulbous tip.
2. Bring the vinegar to a boil over medium-high heat in a saucepan large enough to hold the scapes. Stir in the salt and let it dissolve. Add the scapes to the pot and cover. Boil, stirring once or twice, until the scapes have lost their bright green color, 4 to 5 minutes.
3. Drain the scapes in a colander set in the sink. Spread them out on a clean kitchen towel and let dry for about 1 hour. Shuffle them around a few times so they dry on all sides.
4. Pack the scapes into the jars, leaving 1 inch headspace. Cover the scapes completely with oil, pressing down on the scapes to submerge them. Screw the lids on tightly and let rest at room temperature for 24 hours.
5. Transfer the scapes to the refrigerator and let cure for one week before using. Store in the refrigerator for up to 12 weeks. To serve, remove from the jar only as many scapes as you plan to use and let them come to room temperature. Top off the jar with more oil as needed to keep the remaining scapes submerged.