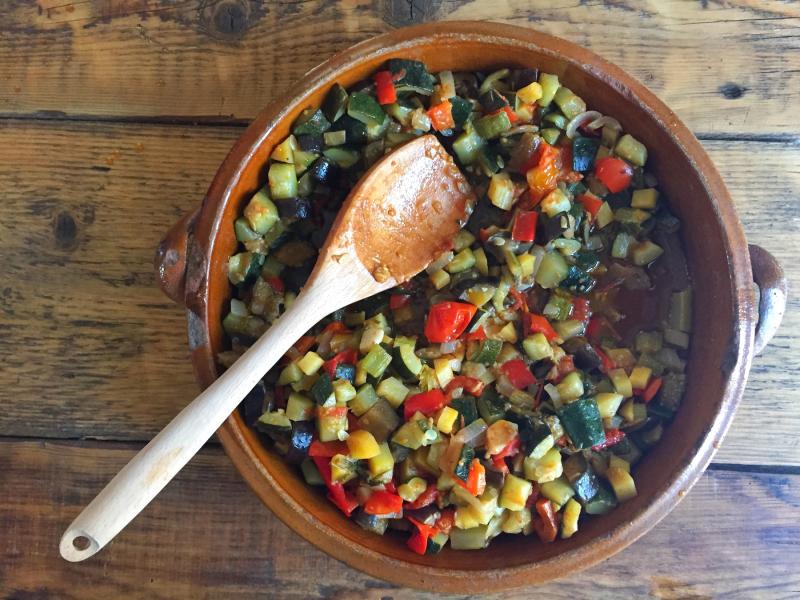 Ciabotto is just one name for this humble and nourishing vegetable stew, a less fussy version of ratatouille and a summer staple throughout central and southern Italy. The name is said to derive from an archaic French word, "chabrot," meaning a "mix." Interestingly, the word "ciabotto," in Abruzzese dialect, means "chubby," and in a certain sense it describes the dish well, for the stew is made from vegetables that are plentiful in an Italian summer garden, and it can be employed as a main dish, a side, or a condiment. It is, in a word, generous.
The variations are many. In Lazio, the region that borders Abruzzo on the west, it is known as 'cianfotta' and features spring vegetables such as peas, favas, and artichokes. There are numerous iterations to the south, in Campania, including one with beans and chard and another with olives and oregano. In parts of Puglia, 'ciambotta' refers to a fish stew with peppers and tomatoes. There's a Tuscan version called gurguglione, said to be brought to the island of Elba by Spanish pirates.
Even within Abruzzo's own borders there are numerous renditions. This one, in which a rich mix of onions, celery, potatoes, zucchini, peppers, and tomatoes, are cooked slowly on the stovetop, comes from my friend Giulia Scappaticcio, who runs a bed and breakfast in the hills of Manopello. Some 30 miles away, in Navelli, my friend Francesca introduced me to a local version known as "la iotta." It is, essentially, the same vegetable stew but rather than sautéed it is baked in the oven.
This brings up the wonderful versatility of ciabotto. You can enjoy it with fresh buffalo mozzarella and prosciutto, or as a side dish to grilled chicken or lamb. Leftovers are delicious on pizza. You can also toss leftover ciabotto with pasta or cooked rice or farro for a simple summer salad.
Ingredients Sections
1 clove garlic, crushed
Extra-virgin olive oil
1 medium yellow onion, diced
1 cup diced celery, plus a handful of leaves if you have them
1 small peperoncino (chile pepper), minced
3 medium potatoes, peeled and diced
3 to 4 zucchini and/or summer squash, diced
2 young eggplants, diced (if using older, dice them, sprinkle with salt, and let sit for an hour, then squeeze out the bitter juices and pat dry)
2 large red peppers, diced
1 pint cherry tomatoes, halved
3/4 cup dry white wine
Fine sea salt
A handful fresh basil leaves, torn
Instructions
1. Put the garlic and about 3 tablespoons of the oil in a large high-sided skillet or sauté pan and set over medium heat. Press the garlic into the oil when it begins to sizzle to extract its flavor but don't allow it to brown. At this point you can remove it or leave it in (I leave it in). Stir in the onion, celery, and peperoncino, and reduce the heat to medium-low. Cook for about 5 minutes, until the onion begins to soften. Add the potato and toss to coat it with the oil. Cook for 5 minutes, until the potato begins to soften.


2. Stir in the zucchini, eggplant, peppers, and tomatoes. Raise the heat to medium-high and stir in the wine. Let it bubble briefly, then reduce the heat to medium. Drizzle in more oil, somewhere between 1/4 and 1/2 cup. Don't be too reserved; the oil contributes much to the stew's silky texture and rich sauce. Season the stew with a generous pinch of salt. Cook over moderate heat, turning every so often, for 30 to 40 minutes, until the vegetables are tender but still hold their shape. Remove from the heat and stir in the basil.


3. Serve warm or at room temperature (the more it sits, the better it gets). Ciabotto goes well with almost anything ~ fresh mozzarella, grilled chicken or fish, steak, lamb chops, sausages, you name it.
Makes 8 or more servings