Overnight Swordfish Stew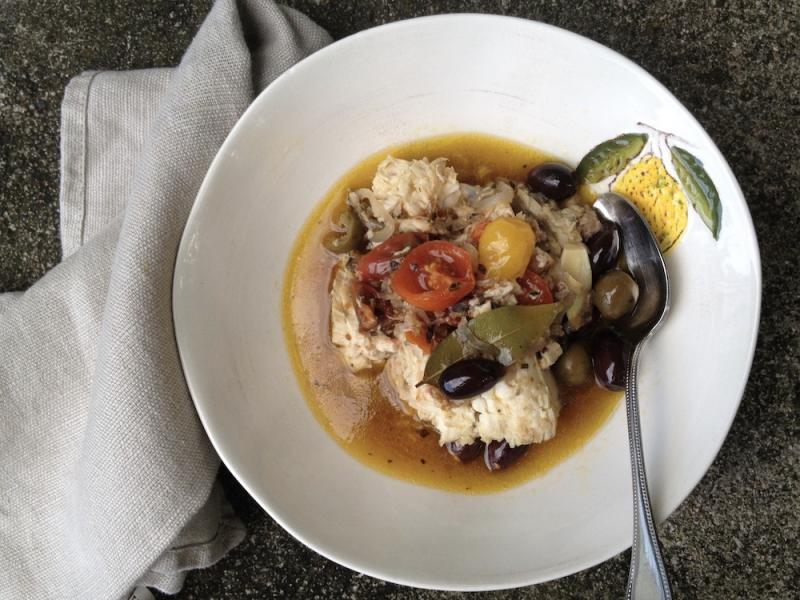 Cooking Time
90 minutes, plus overnight marinating
Swordfish is a popular ingredient in the cuisine of the Italian south, especially Sicily. There it is served in a number of ways, including skewered and grilled (spiedini), stuffed and rolled (involtini), and sautéed in olive oil with olives and capers.
However, this recipe is my absolute favorite way to prepare this meaty, flavorful fish. It is adapted from a recipe I came across years ago in an old issue of La Cucina Italiana. My mother was a subscriber for many years and she set aside dozens of copies. One of my favorite pastimes is to flip through them, in search of forgotten recipes like this one. 
If you are used to tough, overcooked grilled swordfish, you are in for a treat. Here, a single piece of fish is marinated overnight with onions, tomatoes, olives and herbs, then simmered over low heat. As it cooks, the stew creates its own richly flavored broth, which gently poaches the fish. It's one of my favorite recipes, not only for its simplicity but also for its spectacular results. It's a great dish to serve to company, especially with bruschetta on the side.
Ingredients
swordfish steak
1 large (2 pounds)
freshly ground black pepper
yellow onion
1 large, halved and thinly sliced
cherry tomatoes
12 ounces, halved lengthwise
garlic cloves
4 cloves, lightly crushed
kalamata olives
1 cup pitted Gaeta or Kalamata olives
oregano
1 rounded tablespoon minced fresh oregano
extra virgin olive oil
3/4 cup
Instructions
Season the swordfish generously on both sides with salt and pepper. Place it, all in one piece, in a Dutch oven or other heavy-bottomed pot with a lid. It should fit comfortably but snugly. Cover the fish with the onion, tomatoes, garlic, olives, bay leaves and oregano. Drizzle the olive oil over everything, cover, and refrigerate overnight. 
To cook the fish, remove the pot from the refrigerator and let it stand at room temperature for an hour. Place the pot on the stove top over low heat and cook, covered, for 70 to 90 minutes, or until the fish is cooked through and the tomatoes have collapsed. Check the doneness of the fish by gently sliding the tip of a knife into the center. It should slide in with little or no resistance.
Remove from the heat and discard the bay leaves and garlic. Using a large serving spoon, scoop out chunks of fish into shallow bowls. Spoon the vegetables and broth over the fish and serve.